September 01, 2018 — Carlos Fenollosa
I bought a nicely refurbrished Thinkpad X230 and it came with Windows 7.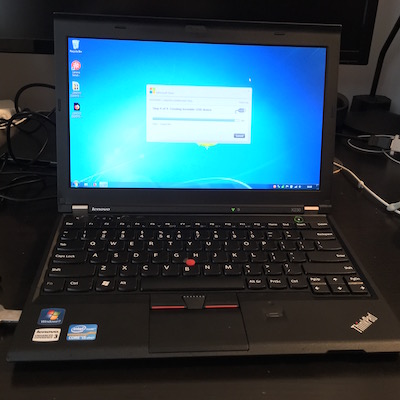 My idea is to install Ubuntu and OpenBSD, but I wanted to keep Windows in a small partition. I want to benchmark performance and battery life on the three systems.
Having not used any Windows version for 17 years, I faced this task with an open mind. Surely Windows is not going to suck after all these years, right?
This is what happened:
Unbox the laptop and boot it up
Windows First Launch Assistant asks me a few questions. Windows 7 boots to desktop. There is some Lenovo crapware installed but I'll deal with that later.
"You have updates, do you want to apply them?". Yes, I do. I don't want to use a Windows box on the Internet without the latest patches
It takes about 3 hours to download updates, installing them and rebooting. I think the laptop rebooted at least four times. Unaware of what would come next, I think "wow this is a terrible first-run experience for a novice user"
Suddenly, in the middle of an update, I get a BSOD. Some things never change I guess. I regret not having taken a picture.
After restarting, it seems some config or dll is broken and most apps don't run. The system is basically unusable
I download the official System Update Readiness Tool For Windows 7 which is a 500MB download that supposedly fixes this specific problem.
SURTFW7 hangs while it is installing the fix. I realize I am screwed.
I try to get back to a "restoration point" but none was created
At this point I am resigned to reinstall from scratch
I launch the Lenovo Factory Recover utility and produces a non-bootable USB disk
I boot from the recovery partition. The option to reset to factory disk/settings does not work
Twitter friends tell me that the smartest thing to do is to download a Windows 10 ISO and nuke the old installation
Thanks for a fantastic first time experience, Microsoft! 👌🏼
P.S. I have a Windows 10 key so I won't need to download a torrent but that's beside the point.
~~~~~~
Update: Indeed, I installed Windows 10. Then it took me about two hours to adjust all the settings and remove the telemetry "features". Since then, I've been sitting in front of the computer, waiting while it installs updates and reboots.
It has taken me two full days to get a new Windows laptop running, and I'm a fairly technical person. What on earth is Windows doing for hours and hours? It literally takes less time to fill in the whole disk with randomly generated bytes.
Ubuntu installed flawlessly and had all drivers working without any manual intervention. Updating to the latest patches took about three minutes and one reboot.
No wonder regular people hate Windows. It is, without a doubt, the worst, most frustrating computing experience I've had in the last ten years.
Tags: windows
August 17, 2018 — Carlos Fenollosa
Steve Hanov produced an impressive implementation of QBasic in Javascript, with detailed explanations, that also runs on the browser. The post is eight years old!
If you're nostalgic for DOS Basic, you can't miss this link.
qb.js: An implementation of QBASIC in Javascript (via)
Tags: programming, retro
August 16, 2018 — Carlos Fenollosa
This is the incredibly weird chain of bugs and hardware issues that bricked my iPhone after the battery of my Apple Watch started to swell.
A couple of months ago the battery of my 1st gen Apple Watch started to swell and the screen popped out. I googled about this issue and read that it's covered by a warranty program, so I brought the watch to the Apple Store in Barcelona. The watch got serviced in a few days, excellent customer support as usual by Apple.
I got home and tried to link this new watch to my iPhone 5s. For some reason the watch refused to link unless I upgraded iOS 10 to iOS 11 on my phone.
My old watch had been working perfectly with iOS 10, but apparently this refurbished one had a new software version that required iOS 11 to work.
I had kept my phone at iOS 10 because my 5s is a bit slow nowadays, I don't need the new features, and in general prefer stability on my main devices. I think, it can't be that bad, and furthermore I had missed my watch so much these last days, so I decide to upgrade.
Terrible decision.
I tap on "Upgrade". The phone downloads the upgrade, starts installing it, progress bar, reboot, progress bar, reboot... one too many times. It's stuck on a reboot look around 80% of progress. Ok, two options, I think. Hardware issue or software issue. How could it be hardware? The phone was working well up to ten minutes ago. So I decide to install clean, wiping out all my data
It's now late afternoon and next day I have to work, and need the phone. You know that feeling, right? This won't end well. I do a clean install, set up Whatsapp and Google Maps, hoping to restore from an icloud backup next day while at work.
The clean install lets me reach the iOS 11 setup screen. Set up wifi, tap next, and reboot. Damn. Set up wifi again, reboot. This doesn't look like a software issue. I try something... I wait five minutes on the wifi setup screen without touching anything. Surprisingly, the phone does not reboot.
I set up wifi after these five minutes and the phone reboots instantly. Any electrical engineer (or probably most of you here that's read about batteries and iOS 11) knows what's happening by now. The battery is failing to supply enough voltage, and this is made apparent at peak power demand, that is, when antennas are working and CPU is at max. I resign myself to having no phone for the next day.
Then, I realize I have a spare iPhone 5s battery laying around, One that I bought to replace my mother's battery (she has also an iPhone 5s) but never ended up fixing. I've changed batteries maybe a dozen times before, and work with electronics regularly. I know best practices. I ground myself, pick up the screwdrivers and suction cup, open up the iPhone carefully, remove the battery glue strips, and install the new battery.
The phone boots.
With the new battery I finally manage to get past the wifi screen but unfortunately the phone keeps rebooting randomly when accessing networks. Damn. My phone clearly has an electrical problem and for whatever reason iOS 11 triggered it. Later, when discussing this issue when a Genius, they confirmed that this is a motherboard problem which required an expensive repair.
Back to the 5S. Since I couldn't use a phone that dies on me randomly, and it's late at night, I picked up my old 4S, popped in my SIM, quickly downloaded Whatsapp and Maps, set up my work email and a few more apps, hoping all icloud data syncs over night. Fortunately, it did.
The next day I started using the 4S as my daily driver. I managed to stick with it for a month, but in the end, it was too slow for everyday usage. It was nice as an experiment, but a pain in the neck to work with.
That's the end more or less. I have a new Apple Watch that killed my 5S, which ironically I couldn't use because my replacement 4S wasn't compatible with that Watch.
I still don't know why iOS 11 draws more power than iOS 10, or if it was a firmware change that really killed my phone. But my bet is on battery management. Doesn't matter now. It was a disaster.
As I was saying, I ended up buying an SE, which is two years old, at full retail price. Well, I got a 40€ discount by trading in the broken 5S.
The cheapest iPhone is not a great deal nowadays, but it still is the perfect phone for my usage/size/budget.
It is not my intention to blame Apple. I fully understand what happened, and it was a chain of unfortunate events. However, I have the feeling that if I could have downgraded the 5S to iOS 10, it may have come back from the dead.
Tags: apple
March 13, 2018 — Carlos Fenollosa
Xataka is probably the biggest Spanish blogging company. I have always admired them, from my amateur perspective, for their ability to make a business out of writing blogs.
That is why, when they invited me to contribute with an article about the decline of Facebook, I couldn't refuse. Here it is.
Facebook se estanca, pero Zuckerberg tiene un plan: el porqué de las adquisiciones millonarias de WhatsApp e Instagram, or Facebook is stagnating, but Zuckerberg has a plan: the reason behind the billion dollar acquisitions of WhatsApp and Instagram.
Tags: facebook, internet, mobile
July 28, 2017 — Carlos Fenollosa
I'm starting a series of posts with a summary of the most interesting links I found. The concept of "social bookmarks" has always been interesting, but no implementation is perfect. del.icio.us was probably the closest to a good enough service, but in the end, we all just post them to Twitter and Facebook for shares and likes.
Unfortunately, Twitter search sucks, and browser bookmarks rot quickly. That's why I'm trying this new model of social + local, not only for my readers but also for myself. Furthermore, writing a tapas-sized post is much faster than a well-thought one.
Hopefully, forcing myself to post periodically —no promises, though— will encourage me to write regular articles sometimes.
Anyway, these posts will try to organize links I post on my Twitter account and provide a bit more of context.
While other friends publish newsletters, I still believe RSS can work well, so subscribe to the RSS if you want to get these updates. Another option is to use some of the services which deliver feeds by email, like Feenbox which, by the way may never leave alpha, so drop me an email if you want an invitation.
Nostalgia
RTVE, the Spanish public TV, has uploaded a few Bit a bit episodes. It was a rad early-90s show that presented video games and the early Internet.
On news
I quit reading news 3 years ago. A recent article from Tobias Rose-Stockwell digs deep into how your fear and outrage are being sold for profit by the Media.
@xurxof recommended a 2012 article from Rolf Dobelli, Avoid News. Towards a Healthy News Diet
LTE > Fiber
A veces estoy en casa y desactivo el wifi del móvil para navegar con 4G porque me falla el router o el internet. Quién nos lo iba a decir.

— Carlos Fenollosa (@cfenollosa) July 23, 2017
I was having router issues and realized how my cellphone internet is sometimes more reliable than my home fiber.
It seems to be more common than you'd think, read the Twitter replies! XKCD also recently posted a comic on this
Journaling
There was a discussion on Lobste.rs on tools to journal your workday, which was one of the reasons that led me to try out these roundup posts.
New keyboard
I bought a Matias Clicky mechanical keyboard which sounds like a minigun. For all those interested in mechanical keyboards, you must watch Thomas's Youtube channel
The new board doesn't have a nav cluster, so I configured Ctrl-HJKL to be the arrow keys. It gets a few days to get used to, but since then, I've been using that combination even when I'm using a keyboard with arrow keys.
Slack eats CPU cycles
Uso de CPU: Pycharm creando imagen de Docker. Dropbox sincronizando 3000 archivos. Slack haciendo absolutamente nada con la ventana cerrada. pic.twitter.com/D0UZK4oGv5

— Carlos Fenollosa (@cfenollosa) July 26, 2017
Slack was eating a fair amount of my CPU while my laptop was trying to build a Docker image and sync 3000 files on Dropbox. Matthew O'Riordan also wrote Where's all my CPU and memory gone? The answer: Slack
Focus, focus, focus!
I'm a brain.fm subscriber and use it regularly, especially when I'm working on the train or in a busy cafe.
musicForProgramming() is a free resource with a variety of music and also provides a podcast feed for updates.
Tags: roundup