July 28, 2017 — Carlos Fenollosa
I'm starting a series of posts with a summary of the most interesting links I found. The concept of "social bookmarks" has always been interesting, but no implementation is perfect. del.icio.us was probably the closest to a good enough service, but in the end, we all just post them to Twitter and Facebook for shares and likes.
Unfortunately, Twitter search sucks, and browser bookmarks rot quickly. That's why I'm trying this new model of social + local, not only for my readers but also for myself. Furthermore, writing a tapas-sized post is much faster than a well-thought one.
Hopefully, forcing myself to post periodically —no promises, though— will encourage me to write regular articles sometimes.
Anyway, these posts will try to organize links I post on my Twitter account and provide a bit more of context.
While other friends publish newsletters, I still believe RSS can work well, so subscribe to the RSS if you want to get these updates. Another option is to use some of the services which deliver feeds by email, like Feenbox which, by the way may never leave alpha, so drop me an email if you want an invitation.
Nostalgia
RTVE, the Spanish public TV, has uploaded a few Bit a bit episodes. It was a rad early-90s show that presented video games and the early Internet.
On news
I quit reading news 3 years ago. A recent article from Tobias Rose-Stockwell digs deep into how your fear and outrage are being sold for profit by the Media.
@xurxof recommended a 2012 article from Rolf Dobelli, Avoid News. Towards a Healthy News Diet
LTE > Fiber
A veces estoy en casa y desactivo el wifi del móvil para navegar con 4G porque me falla el router o el internet. Quién nos lo iba a decir.

— Carlos Fenollosa (@cfenollosa) July 23, 2017
I was having router issues and realized how my cellphone internet is sometimes more reliable than my home fiber.
It seems to be more common than you'd think, read the Twitter replies! XKCD also recently posted a comic on this
Journaling
There was a discussion on Lobste.rs on tools to journal your workday, which was one of the reasons that led me to try out these roundup posts.
New keyboard
I bought a Matias Clicky mechanical keyboard which sounds like a minigun. For all those interested in mechanical keyboards, you must watch Thomas's Youtube channel
The new board doesn't have a nav cluster, so I configured Ctrl-HJKL to be the arrow keys. It gets a few days to get used to, but since then, I've been using that combination even when I'm using a keyboard with arrow keys.
Slack eats CPU cycles
Uso de CPU: Pycharm creando imagen de Docker. Dropbox sincronizando 3000 archivos. Slack haciendo absolutamente nada con la ventana cerrada. pic.twitter.com/D0UZK4oGv5

— Carlos Fenollosa (@cfenollosa) July 26, 2017
Slack was eating a fair amount of my CPU while my laptop was trying to build a Docker image and sync 3000 files on Dropbox. Matthew O'Riordan also wrote Where's all my CPU and memory gone? The answer: Slack
Focus, focus, focus!
I'm a brain.fm subscriber and use it regularly, especially when I'm working on the train or in a busy cafe.
musicForProgramming() is a free resource with a variety of music and also provides a podcast feed for updates.
Tags: roundup
April 22, 2017 — Carlos Fenollosa
The second post on this blog was devoted to screen and how to use it to make persistent SSH sessions.
Recently I've started using mosh, the mobile shell. It's targeted to mobile users, for example laptop users who might get short disconnections while working on a train, and it also provides a small keystroke buffer to get rid of network lag.
It really has little drawbacks and if you ever ssh to remote hosts and get annoyed because your vim sessions or tail -F windows get disconnected, give mosh a try. I strongly recommend it.
March 01, 2017 — Carlos Fenollosa
Digital Deli: The Comprehensive, User Lovable Menu Of Computer Lore, Culture, Lifestyles, And Fancy is an obscure book published in 1984. I found about it after learning that the popular Steve Wozniak article titled "Homebrew and How the Apple Came to Be" belonged to a compilation of short articles.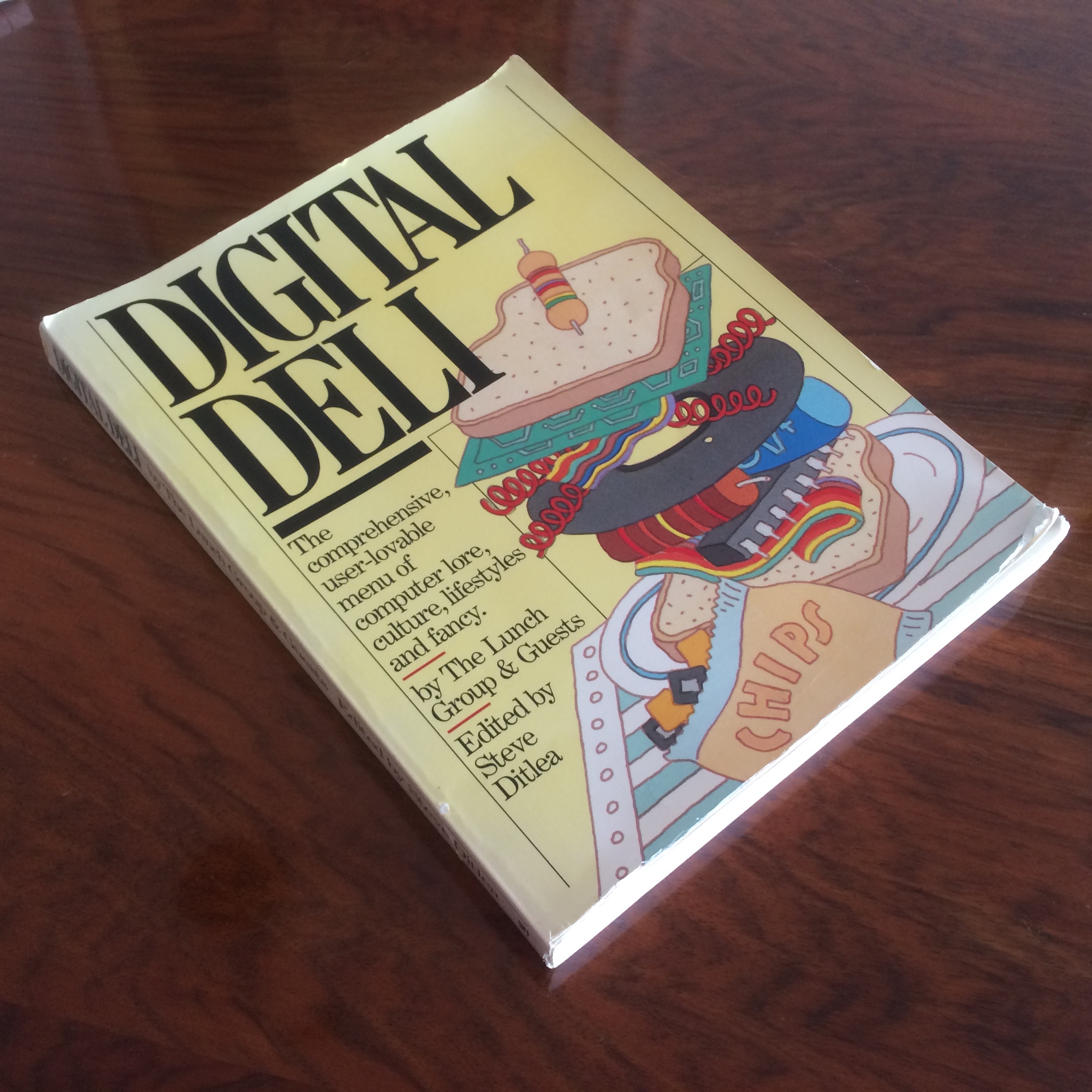 I'm amazed that this book isn't more cherished by the retrocomputing community, as it provides an incredible insight into the state of computers in 1984. We've all read books about their history, but Digital Deli provides a unique approach: it's written in present tense.
Articles are written with a candid and inspiring narrative. Micro computers were new back then, and the authors could only speculate about how they might change the world in the future.
The book is adequately structured in sections which cover topics from the origins of computing, Silicon Valley startups, and reviews of specific systems. But the most interesting part for me are not the tech articles, but rather the sociological essays.
There are texts on how families welcome computers to the home, the applications of artificial intelligence, micros on Wall Street and computers on the classroom.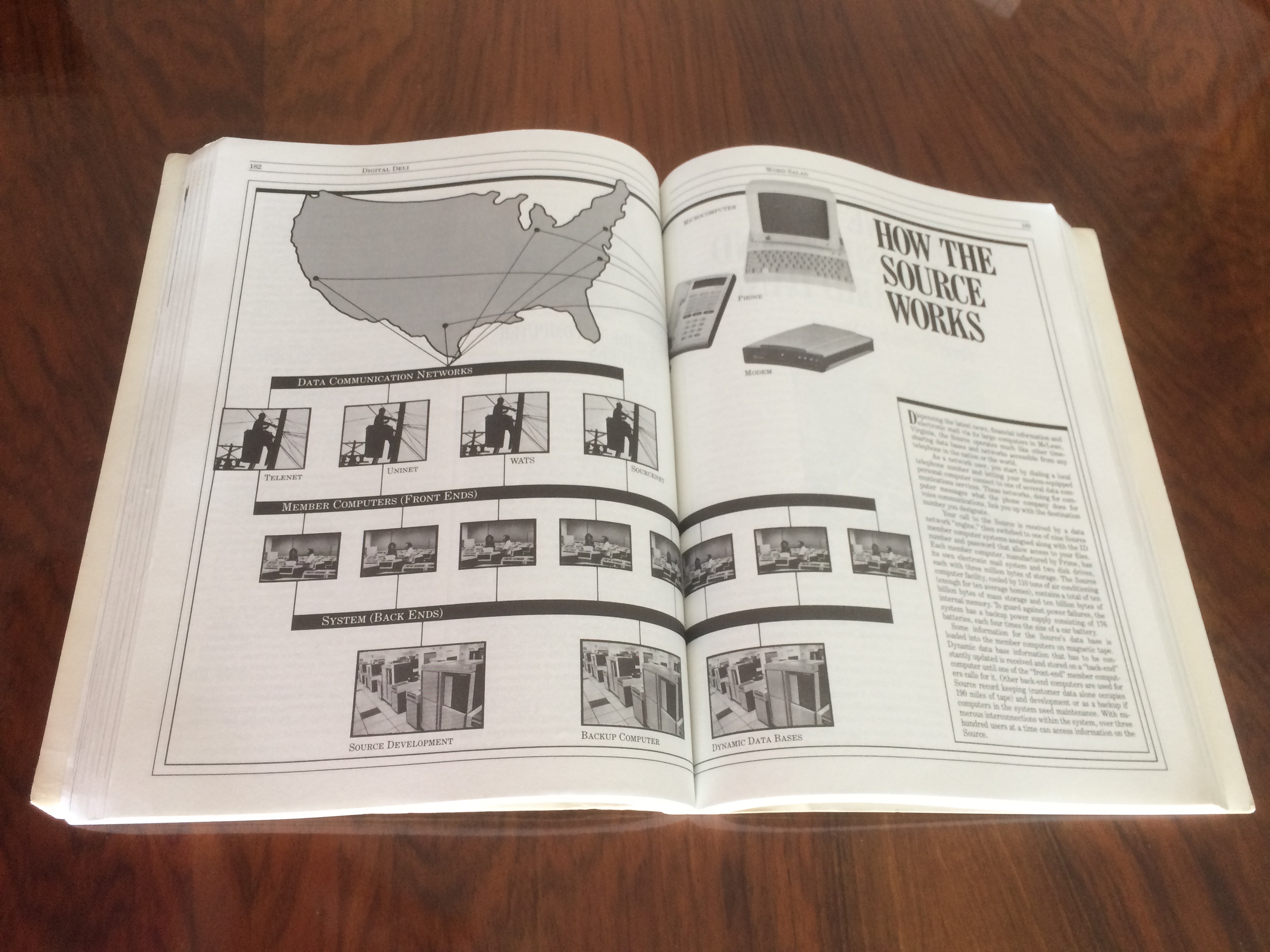 Fortunately, a copy of the book has been preserved online, and I highly encourage you to check it out and find some copies online
Besides Woz explaining how Apple was founded, don't miss out on Paul Lutus describing how he programmed AppleWriter in a cabin in the woods, Les Solomon envisioning the "magic box" of computing, Ted Nelson on information exchange and his Project Xanadu, Nolan Bushnell on video games, Bill Gates on software usability, the origins of the Internet... the list goes on and on.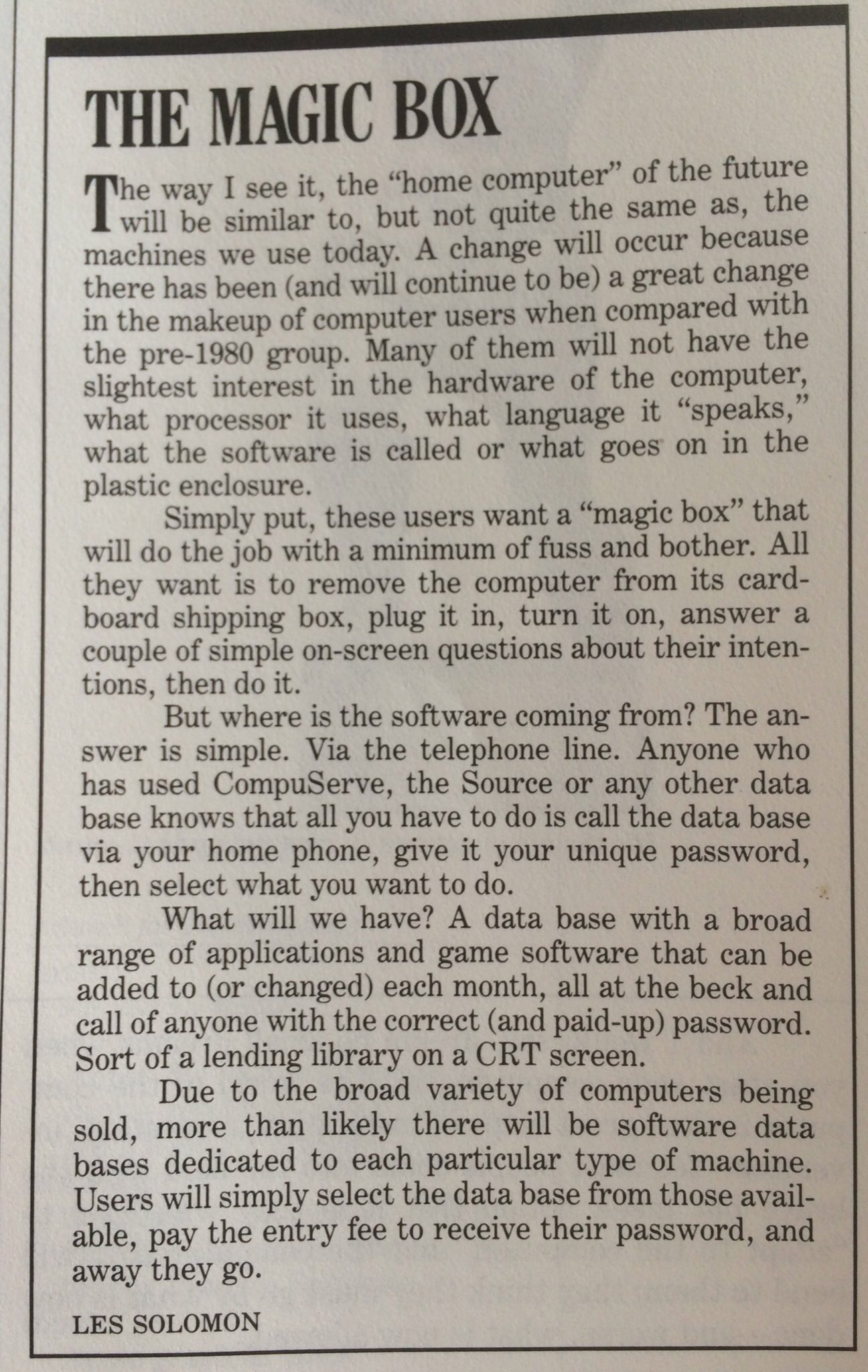 If you love vintage computing you will find a fresh perspective, and if you were alive during the late 70s and early 80s you will feel a big nostalgia hit. In any case, do yourself a favor, grab a copy of this book, and keep it as a manifesto of the greatest revolution in computer history.
February 24, 2017 — Carlos Fenollosa
It turns out that Cloudflare's proxies have been dumping uninitialized memory that contains plain HTTPS content for an indeterminate amount of time. If you're not familiar with the topic, let me summarize it: this is the worst crypto news in the last 10 years.
As usual, I suggest you read the HN comments to understand the scandalous magnitude of the bug.
If you don't see this as a news-opening piece on TV it only confirms that journalists know nothing about tech.
How bad is it, really? Let's see
I'm finding private messages from major dating sites, full messages from a well-known chat service, online password manager data, frames from adult video sites, hotel bookings. We're talking full HTTPS requests, client IP addresses, full responses, cookies, passwords, keys, data, everything
If the bad guys didn't find the bug before Tavis, you may be on the clear. However, as usual in crypto, you must assume that any data you submitted through a Cloudflare HTTPS proxy has been compromised.
Three take aways
A first take away, crypto may be mathematically perfect but humans err and the implementations are not. Just because something is using strong crypto doesn't mean it's immune to bugs.
A second take away, MITMing the entire Internet doesn't sound so compelling when you put it that way. Sorry to be that guy, but this only confirms that the centralization of the Internet by big companies is a bad idea.
A third take away, change all your passwords. Yep. It's really that bad. Your passwords and private requests may be stored somewhere, on a proxy or on a malicious actor's servers.
Well, at least change your banking ones, important services like email, and master passwords on password managers -- you're using one, right? RIGHT?
You can't get back any personal info that got leaked but at least you can try to minimize the aftershock.
Update: here is a provisional list of affected services. Download the full list, export your password manager data into a csv file, and compare both files by using grep -f sorted_unique_cf.txt your_passwords.csv.
Afterwards, check the list of potentially affected iOS apps
Let me conclude by saying that unless you were the victim of a targeted attack it's improbable that this bug is going to affect you at all. However, that small probability is still there. Your private information may be cached somewhere or stored on a hacker's server, waiting to be organized and leaked with a flashy slogan.
I'm really sorry about the overly dramatic post, but this time it's for real.
Tags: security, internet, news
November 16, 2016 — Carlos Fenollosa
My current machine is a 2013 i7 Macbook Air. It doesn't have the Pro label, however, It has two USB 3.0 ports, an SD slot and a Thunderbolt port. 12 hours of battery life. One of the best non-retina screens around. Judging by this week's snarky comments, it's more Pro than the 2016 Macbook Pro.
Me, I love this laptop. In fact, I love it so much that I bought it to replace an older MBA. I really hoped that Apple would keep selling the same model with a Retina screen and bumped specs.
But is it a Pro computer or not? Well, let me twist the language. I make my living with computers, so by definition it is. Let's put it another way around: I could have spent more money for a machine which has Pro in its name, but that wouldn't have improved my work output.
What is a Pro user?
So there's this big discussion on whether the Pro label means anything for Apple.
After reading dozens of reviews and blog posts, unsurprisingly, one discovers that different people have different needs. The bottom line is that a Pro user is someone who needs to get their work done and cannot tolerate much bullshit with their tools.
In my opinion, the new Macbook Pros are definitely a Pro machine, even with some valid criticisms. Apple product releases are usually followed by zesty discussions, but this time it's a bit different. It's not only angry Twitter users who are complaining; professional reviewers, engineers, and Pro users have also voiced their concerns.
I think we need to stop thinking that Apple is either stupid or malevolent. They are neither. As a public company, the metric by which their executives are evaluated is stock performance. Infuriating users for no reason only leads to decreasing sales, less benefits, and unhappy investors.
I have some theories on why Apple seems to care less about the Mac, and why many feel the need to complain.
Has the Pro market changed?
Let's be honest: for the last five years Apple probably had the best and most popular computer lineup and pricing in their history. All markets (entry, pro, portability, desktops) had fantastic machines which were totally safe to buy and recommend, at extremely affordable prices.
I've seen this myself. In Spain, as one of the poorest EU countries, Apple is not hugely popular. Macs and iPhones are super expensive, and many find it difficult to justify an Apple purchase on their <1000€ salary.
However, in the last three to five years, everybody seemed to buy a Mac, even friends of mine who swore they would never do it. They finally caved in, not because of my advice, but because their non-nerd friends recommend MBPs. And that makes sense. In a 2011 market saturated by ultraportables, Windows 8, and laptops which break every couple years, Macs were a great investment. You can even resell them after five years for 50% of their price, essentially renting them for half price.
So what happened? Right now, not only Pros are using the Macbook Pro. They're not a professional tool anymore, they're a consumer product. Apple collects usage analytics for their machines and, I suppose, makes informed decisions, like removing less used ports or not increasing storage on iPhones for a long time.
What if Apple is being fed overwhelmingly non-Pro user data for their Pro machines and, as a consequence, their decisions don't serve Pro users anymore, but rather the general public?
First, let's make a quick diversion to address the elephant in the room because, after all, I empathize with the critics.
Apple is Apple
Some assertions you can read on the Internet seem out of touch with a company which made the glaring mistake of building a machine without a floppy, released a lame mp3 player without wireless and less space than a Nomad, tried to revolutionize the world with a phone without a keyboard, and produced an oversized iPhone which is killing the laptop in the consumer market.
Apple always innovates. You can agree whether the direction is correct, but they do. They also copy, and they also steal, like every other company.
What makes them stand out is that they are bolder, dare I say, more courageous than others, to the point of having the courage to use the word courage to justify an unpopular technical decision.
They take more risks on their products. Yes, I think that the current audio jack transition could've been handled better, but they're the first "big brand" to always make such changes on their core products.
This brings us to my main gripe with the current controversy. I applaud their strategy of bringing iPhone ideas, both hardware and software, to the Mac. That is a fantastic policy. You can design a whole device around a touch screen and a secure enclave, then miniaturize it and stick it on a Macbook as a Touch Bar.
Having said that, us pros are generally conservative: we don't update our OS until versions X.1 or X.2, we need all our tools to be compatible, and we don't usually buy first-gen products, unless we self-justify our new toy as a "way to test our app experience on users who have this product".
The Great Criticism Of The 2016 Macbook Pro is mainly fueled by customers who wanted something harder, better, faster, stronger (and cheaper) and instead they got a novel consumer machine with few visible Pro improvements over the previous one and some prominent drawbacks.
Critical Pros are disappointed because they think Apple no longer cares about them. They feel they have no future using products from this company they've long invested in. Right now, there is no clear competitor to the Mac, but if it were, I'm sure many people would vote with their wallets to the other guy.
These critics aren't your typical Ballmers bashing the iPhone out of spite. They are concerned, loyal customers who have spent tens of thousands of dollars in Apple's products.
What's worse, Apple doesn't seem to understand the backlash, as shown by recent executive statements. Feeling misunderstood just infuriates people more, and there are few things as powerful as people frustrated and disappointed with the figures and institutions they respect.
Experiment, but not on my lawn
If I could ask Apple for just one thing, it would be to restrict their courage to the consumer market.
'Member the jokes about the 2008 Macbook Air? Only one port, no DVD drive?
The truth is, nobody cared because that machine was clearly not for them; it was an experiment, which if I may say so, turned out to be one of the most successful ever. Eight years later, many laptops aspire to be a Macbook Air, and the current entry Apple machine, the Macbook "One", is only an iteration on that design.
Nowadays, Apple calls the Retina MBA we had been waiting for a "Macbook Pro". That machine has a 15W CPU, only two ports—one of which is needed for charging—, good enough internals, and a great battery for light browsing which suffers on high CPU usage.
But when Apple rebrands this Air as a Pro, real pros get furious, because that machine clearly isn't for them. And this time, to add more fuel to the fire, the consumer segment gets furious too, since it's too expensive, to be exact, $400 too expensive.
By making the conscious decision of positioning this as a Pro machine both in branding and price point, Apple is sending the message that they really do consider this a Pro machine.
One unexpected outcome of this crisis
Regardless, there is one real, tangible risk for Apple.
When looking at the raw numbers, what Apple sees is this: 70% of their revenue comes from iOS devices. Thus, they prioritize around 70% of company resources to that segment. This makes sense.
Unless.
Unless there is an external factor which drives iPhone sales: the availability of iPhone software, which is not controlled by Apple. This software is developed by external Pros. On Macs.
The explosion of the iOS App Store has not been a coincidence. It's the combination of many factors, one of which is a high number of developers and geeks using a Mac daily, thanks to its awesomeness and recent low prices. How many of us got into iPhone development just because Xcode was right there in our OS?
Similarly to how difficult it is to find COBOL developers because barely anyone learns it anymore, if most developers, whichever their day job is, start switching from a Mac to a PC, the interest for iOS development will dwindle quickly.
In summary, the success of the iPhone is directly linked to developer satisfaction with the Mac.
This line of reasoning is not unprecedented. In the 90s, almost all developers were using the Microsoft platform until Linux and OSX appeared. Nowadays, Microsoft is suffering heavily for their past technical decisions. Their mobile platform crashed not because the phones were bad, but because they had no software available.
Right now, Apple is safe, and Pro users will keep using Macs not only thanks to Jobs' successful walled garden strategy, but also because they are the best tools for the job.
While Pro users may not be trend-setters, they win in the long term. Linux won in the server. Apple won the smartphone race because it had already won the developer race. They made awesome laptops and those of us who were using Linux just went ahead and bought a Mac.
Apple thinks future developers will code on iPads. Maybe that's right 10 years from now. The question is, can they save this 10-year gap between current developers and future ones?
The perfect Pro machine
This Macbook Pro is a great machine and, with USB-C ports, is future proof.
Dongles and keyboards are a scapegoat. Criticisms are valid, but I feel they are unjustly directed to this specific machine instead of Apple's strategy in general. Or, at least, the tiny part that us consumers see.
Photographers want an SD slot. Developers want more RAM for their VMs. Students want lower prices. Mobile professionals want an integrated LTE chip. Roadies want more battery life. Here's my wish, different than everybody else's: I want the current Macbook Air with a Retina screen and 20 hours of battery life (10 when the CPU is peaking)
Everybody seems to be either postulating why this is not a Pro machine or criticizing the critics. And they are all right.
Unfortunately, unless given infinite resources, the perfect machine will not exist. I think the critics know that, even if many are projecting their rage on this specific machine.
A letter to Santa
Pro customers, myself included, are afraid that Apple is going to stab them on the back in a few years, and Apple is not doing anything substantial to reduce these fears.
In computing, too, perception is as important as cold, hard facts.
Macs are a great UNIX machine for developers, have a fantastic screen for multimedia Pros, get amazing build quality value for budget constrained self-employed engineers, work awesomely with audio setups thanks to almost inaudible fans, triple-A software is available, and you can even install Windows.
We have to admit that us Pros are mostly happily locked in the Apple ecosystem. When we look for alternatives, in many cases, we only see crap. And that's why we are afraid. Is it our own fault? Of course, we are all responsible for our own decisions. Does this mean we have no right to complain?
Apple, if you're listening, please do:
Remember that you sell phones because there's people developing apps for them.
Ask your own engineers which kind of machine they'd like to develop on. Keep making gorgeous Starbucks ornaments if you wish, but clearly split the product lines and the marketing message so all consumers feel included.
Many iOS apps are developed outside the US and the current price point for your machines is too high for the rest of the world. I know we pay for taxes, but even when accounting for that, a bag of chips, an apartment, or a bike doesn't cost the same in Manhattan than in Barcelona.
Keep making great hardware and innovating, but please, experiment with your consumer line, not your Pro line.
Send an ACK to let us Pros recover our trust in you. Unfortunately, at this point, statements are not enough.
Thank you for reading.