April 01, 2022 — Carlos Fenollosa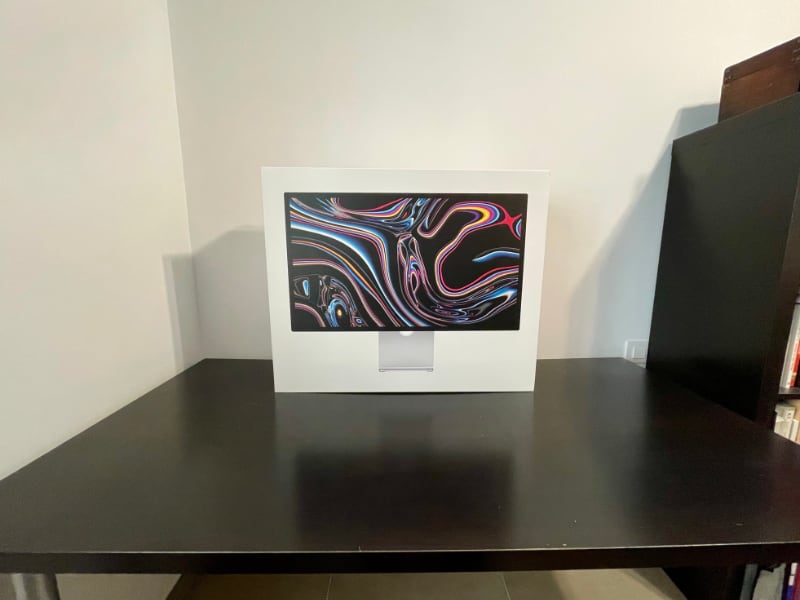 The Apple Studio Display is, unquestionably, a very good monitor.
But the real question is, should you pay €1,800+ for it?
I have been asking that question myself for the past ten days.
Today I decided that while I can't recommend it, I will not return my new monitor. Here's why.
The Pros
I replaced my Benq 27" 2560x1440 IPS LCD display with the Studio Display. These are the main benefits:
The panel. It is good. It could be better, of course. It could have more modern features, too. But it is a good 5k retina panel.
As soon as I started using the Studio Monitor it felt like I had put glasses on. Every other screen looks blurry now.
The rest of the review is accessory to this experience. It is something that you have to, quite literally, see with your own eyes.
The speakers and microphone. They are fantastic. A big step up from any other speakers I've used on any computer.
True Tone. All other displays look bluish now. Great underrated feature.
It is the best-in-class. Simple as that. Its only competitor is the LG UltraFine, which is not much cheaper and lacks other features. If you want a 5K retina display the Studio Display is the best choice.
The Cons
Like everything with recent Apple, there is no progress without compromise.
The stand is too low. Asking users to pay an extra €460 for an adjustable stand is an insult. Sorry but there is no other way to put it. Therefore, this beautiful piece of hardware now stands on top of an ugly PHP reference manual.
Apple, if you ship a monitor with a non-adjustable stand in 2022, please make sure that the default height is at an ergonomic level. It should be at least 5-8 centimeters higher. Since Apple is the company which cares the most about accessibility, no sarcasm here, we can only conclude that this was either a punitive or aesthetic decision.
The screen. It is glossy like all Apple displays. For me this is the first glossy display I've used, so it stands out.
I now notice distracting reflections when working with a dark app. I would have liked to test the nano-textured glass, but I am not going to pay an extra €250 on top of the €1,800.
The speakers. They have too much bass. All audio is artificially deep. For music this is not an issue, but for video conferences it makes every person sound like James Earl Jones.
Clearly Apple never tested for this use case, because they hate video conference users as we will see below.
It doesn't bother me too much, but I wonder why the speakers couldn't sound more natural. It is not a defect of the hardware. Somebody made an odd decision.
The Don't Cares
High brightness. 600 nits is really bright indoors, but if you need such a high brightness level it means you have other problems. If you are in an extremely lit room, maybe with direct sunlight, the reflections will overpower the display brightness.
Good feature, but unlike on a laptop, it doesn't make a difference.
USB-C hub. If you use an Apple laptop you need an external Thunderbolt dock anyway.
I still have six devices which require USB-A and only one which requires USB-C. Therefore, they are plugged to my dock. The extra USB-C ports on the Display remain unused.
It is a nice feature, don't get me wrong, but in 2022 we are not yet in a world where you can ignore USB-A. That is the truth, even if Apple doesn't like it. I know I am asking for an impossible, but if they wanted to make the USB hub useful, they should have included USB-A ports on this monitor.
Non-detachable power cable. I guess it should be user replaceable, but I've never, in my 30 years using computers, have a monitor power cable fail me. It's a non-issue.
That said, mark my words, I hope I don't have to eat my hat in three years.
No buttons or controls. I guess this is a good feature and it does make the display more beautiful, but I really don't care. Hey, this is my review!
The Cruelty
There is a product manager at Apple who, for some reason, hates webcam users with a burning passion.
They despise them so much that they wish they could personally slap each and every webcam user in their ugly, vassal faces.
Since that is physically impossible, they decided to incarnate that slap into the worst webcam Apple has ever shipped.
I compared the 2020 Macbook camera to the 640x480 VGA camera of my 2006 Nokia 5200. Believe it or not, this webcam is worse.
Apple picked up the worst lens SKU they had in stock and hopefully due to a bug they decreased the quality of the image processing pipeline. And this is on an expensive monitor with plenty of physical space to fit a big, quality lens.
WHY, APPLE, WHY?
Gruber found the perfect adjective: cadaveric.
I kid you not, the first call I did with my new monitor, the colleague at the other end, who sees me every day, asked me if I was sick.
For the love of all that's good, Apple, if your webcam can be even slightly fixed with software, please do it.
The Veredict
I was not only ready, I was eager to return this monitor.
I had been keeping some notes where I was compiling my thoughts to help me make a decision.
At the bottom I wrote down what I would do with the return money. "Surprise my wife with an expensive vacation". "Buy new water heater". "Get an electric bike". "Buy two 4K monitors".
But I knew that, below all layers of cynicism and anger, I had to be fair and make a rational decision.
Before putting the monitor back in its box, I asked myself the questions that really matter when making a purchase decision.
Improvement: Is this monitor better than my current one? YES
Value: Can I get a better one for that same price? NO
And I did something else: I plugged the Benq back and used it for ten minutes.
Nope.
Need: Am I willing to go back to my 27" Benq? NO
It's either this or glasses
Once you try the Studio Display every other monitor makes you feel like you need glasses —Apple, feel free to use this benefit in your marketing copy.
I'm approaching 40 and I am starting to realize that my sight is deteriorating a bit. I can see very well, but I find it more difficult to read small text at a distance.
The Studio Display fixes that. I do not need to increase font size anymore. The text rendering is so good that I can continue reading 12pt websites at an arm's distance.
Had I not used it for ten days, my frame of reference would be the same, and I would not "miss" a feature I didn't know existed. I would be happy with my Benq, increasing font size when needed, adjusting to my diminished visual abilities.
Wait, I know what you're thinking. You could have shown me this article ten years ago and I would've dismissed it. "Old people problems", I would've said, "an exaggeration".
But I can't go back. Apple pundits often say that "Apple ruined them with Retina", and I understand it now. It is something you have to experience.
Apple, why do you make this so difficult?
Of course the price tag is expensive. But it's not about the money, it's Apple's bizarre design decisions.
I can understand a compromised monitor for €900. But I can't understand a compromised one for €1,800.
Therefore, my recommendation for you as a reader is that you do not buy it, unless:
Money is no issue, you only go for quality, not value. In that case, get the adjustable stand too, and maybe the nano-textured glass.
You really do need a retina screen because you are starting to notice blurry pixels on regular monitors.
Marques puts it very well. The Apple Studio Display is not a good deal.
Unfortunately, it is the only deal.
As for me, there is no salvation. I am ruined by Retina.
You win again, Apple.
I just wish you didn't make every new product a battle. Please, let me buy a product and be happy afterwards without reservations.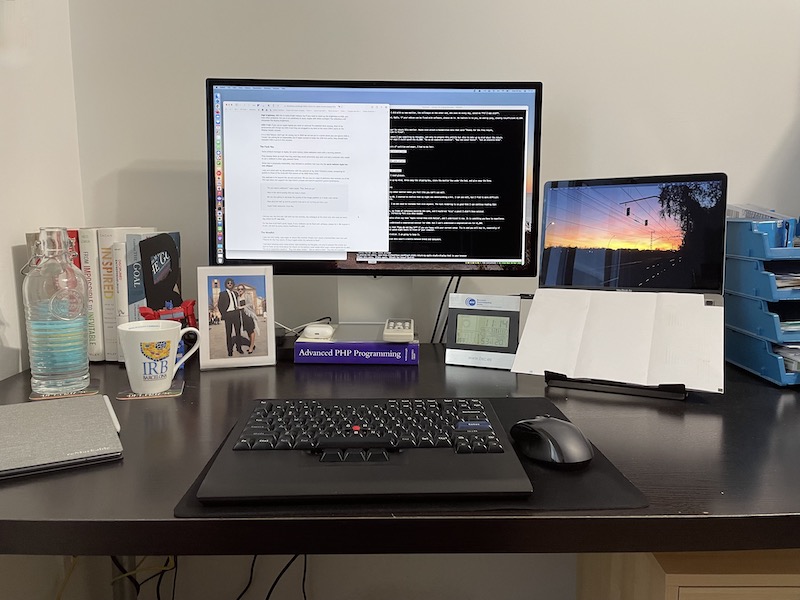 Here it is, on top of the ugly PHP book. This setup will remind me every day for the next ten years that an Apple PM decided that not suffering from neck pain should be an €460 upsell.
November 04, 2021 — Carlos Fenollosa
This article is part of a series:

Fed up with the Mac, I spent six months with a Linux laptop. The grass is not greener on the other side
This article
Ah, the life of a regular user. All the cool youtubers are rushing to publish their reviews of the new and shiny Macbooks Pro, and here I am with my review of the year-old M1 Macbook Air.
(If you want to watch some great MBP reviews, I recommend the ones from Lisa and Dave)
Since I'm not a reviewer, I'm going to do something unusual and probably more interesting.
I am going to compare the 2020 Air with the 2013 Air as it was released.
2020 vs 2013
The TL;DR is that the 2020 is a 9.5/10 but the 2013 was a 10/10. I was in love with that machine since day one until the day I retired it.
Of course, any nitpicks I will mention don't really matter and they are outshined by the fact that it's a fantastic machine and there is no other consumer laptop that comes close.
Let's start with the things where the 2020 is better than the 2013:
Mind blowing battery life under normal and low use. You can easily get 14-16 hours when web browsing, writing or streaming. The 2013 used to get 10-12 with low use, and 5-7 with regular use, but this is incredible.
Great battery life under moderate load, about 7-10 hours. The 2013 suffered when the CPU was stressed and dropped to 3-4 hours.
The Retina screen is really nothing out of the ordinary nowadays, but it shines when compared to the TN panel that the 2013 had.
The speakers are incredible for a laptop this size. The 2013's were not bad for the time, but these are much better.
Now, some aspects where both machines are equivalent:
The SSD is quite fast, applications launch quickly, the system is very responsive
The webcam is acceptable
The keyboard and trackpad are both great
The version of macOS included on release was a bit buggy but it improved with the following release
The 2020's form factor is nice and compact, and the 2013's also was when compared to contemporary laptops
And finally, a few issues which are unique of the 2020:
The battery is degrading at the speed of light. After only 56 cycles the health is at 85%. My usage pattern is similar to the one I had with the 2013, and it took four years before I had to replace it.
Speaking of which, it has a non-user-serviceable battery or SSD. I had to swap both on my 2013 and I dread the moment this laptop completely dies because of SSD degradation.
The port selection sucks and it took me 4 tries to get a good USB/Thunderbolt dock
Speaking of which, the headphone jack is on the wrong side
External monitor EDID management is buggy and many LCDs look blurry. The 2013 had no issues with this.
External USB drives behave erratically. Sometimes they mount and unmount instantly, other times they take multiple minutes to mount/unmount
Emulation of Windows systems is in a bad state. I have multiple Virtualbox images which replicate older computers I used when I was a kid, for nostalgia reasons, and they stopped working.
Overall, some of these items are related to the Apple Silicon, others are related to the form factor, and others to software. It doesn't matter. The experience is perfect but not flawless.
I am, however, very hopeful for the future, so I don't really mind.
What about Pro users?
From my analysis of the 2016 Macbooks Pro:
[Apple] Ask your own engineers which kind of machine they'd like to develop on. Keep making gorgeous Starbucks ornaments if you wish, but clearly split the product lines and the marketing message so all consumers feel included.
The 2020 Macbook Air is clearly a consumer laptop, and the 2021 Macbooks Pro are undoubtably a Pro laptop. We are back to the famous four-product matrix.
That is probably the most important aspect of the Great Contrition that Apple is going through, and not many Apple pundits have talked about it.
The fact that consumers can buy a great laptop for 1000€ is fantastic. But even better is that Pro users now have the option to spend a lot of money on a machine which is leaps, not steps, ahead of the consumer one.
Speaking of price:
Many iOS apps are developed outside the US and the current price point for your machines is too high for the rest of the world. I know we pay for taxes, but even when accounting for that, a bag of chips, an apartment, or a bike doesn't cost the same in Manhattan than in Barcelona
Non-US salaries make it a bit difficult to justify the expenditure on a 2021 Pro laptop, but anybody can develop iOS apps on a sub-1500€ Apple computer.
Finally, a laptop I can recommend
I can safely recommend the 2020 Air to any non-technical person who asks me which laptop they should get. More importantly, I am now confident that the next 10 years of Apple hardware will not disappoint me. I will not need to keep fumbling with Linux laptops unless for fun.
Furthermore, for price-sensitive Pro users, the Air is still probably the best bang for your buck.
Honestly, I really don't know if I consider myself a "Pro" anymore. I am a power user but I definitely don't need superfast CPUs, tons of RAM, pixel-perfect screens or eardrum-breaking speakers.
But boy, am I glad that users who need those finally can have them. This one is for you, congratulations!
The story ends here. Did you read all previous chapters?

Fed up with the Mac, I spent six months with a Linux laptop. The grass is not greener on the other side
This article
April 02, 2021 — Carlos Fenollosa
This article is part of a series:

This article
Due to very bad decisions by Apple's product marketing teams, Mac hardware and software had been in steady decline since 2016.
Therefore, there has been a trickle of articles on the Geekosphere about people switching from Macs to Linux or Windows.
This is the contrarian view. Don't do it.
The TL;DR is right there in the title: migrating to Linux is fine, but don't expect a better experience than the Mac.
My experience with the Dell XPS 13" Developer Edition was positive in general, including a self-hosted Cloud setup, but not good enough to convince me to stay with it.
We will cover:
A comparison of generic productivity software: email, calendar, image manipulation, etc.
Available power tools to customize your keyboard, trackpad, and more.
A quick jab at decades-old issues which still haven't been solved.
Misc stuff that Linux does better than the Mac.
~~~~~
I feel like I need to clarify that this is an article aimed at Mac users who are considering a migration to Linux in hope of a more polished system. As usual, personal experiences and requirements are subjective. I know that Ubuntu ≠ Gnome ≠ Linux. I also know that I'm not entitled to anything, everybody is welcome to send patches. Just let me say that if you try to cherry-pick any single issue, you're missing the forest for the trees.
~~~~~
Linux productivity software is fine, but there are rough edges for the power user
The typical disclaimer when recommending Linux to a Mac/Windows user is that some proprietary software may not be available, like MS Office, Photoshop, games, etc.
Nobody says, "the main problem you will find with Linux is that email and calendar clients fall apart when you scratch under the surface."
It is truly ironic because I ran MS Office with Wine and it worked well but I was unhappy with my email workflow.
Yes, the apps I missed the most from the Mac were Mail.app, Calendar.app, and Preview.app.
I am an extreme power user, to the point that many of the keys on my keyboard don't do what the keycap says. I want my apps to let me do easy things fast while allowing me to do complex tasks with a bit of extra work.
I send and receive maybe 100 emails per day. Most of them are HTML, with attachments, video conference invitations, and such. I don't live in a vacuum. I can't ask my clients to send me plaintext email only. I need to send long emails with pictures, I want my zoom invites to appear automatically in my calendar.
For some reason Mail.app gets a lot of criticism, but it does almost everything well. It has conversation view, search is fast and helpful, multiple accounts are combined seamlessly including autodetection of the "From" field based on the recipient, and smart folders (search folders) are updated when you need them.
On Linux, the only email client with a native "conversation view" is Geary, which is in early development and still very buggy. Evolution is fine and well-integrated with the rest of the desktop apps, but the lack of conversation view was a deal-breaker for me. Thunderbird is an excellent email client, but conversation view is provided by a plugin that is also buggy. Other options like Claws, Sylpheed, Kmail, and terminal clients are more limited in terms of features and don't work for me.
I ended up using Thunderbird, but I felt like I was doing my email with handcuffs. Suffice to say, I had both Thunderbird and Gmail open and used either one depending on the task I needed to complete.
The situation of calendar and contacts clients is similar, with the same contenders. I also ended up using Thunderbird along with Google Calendar.
About PDF and basic image management, anybody who has used Preview.app will realize that it's much more than just a viewer. There is simply no replacement on Linux. You'll need to open either the Gimp or Xournal for any basic editing. I am an advanced Gimp user, but for most operations, Preview.app is faster and more convenient.
Desktop notifications are something we don't think a lot about, but a bad system can be very annoying. Gnome has a system-wide framework, which is not well thought in terms of dealing with the actual notifications.
Most apps have their own notifications system which runs in parallel, especially Thunderbird and Evolution. You end up with different types of notifications on different parts of the screen, and a non-consistent UI to deal with them.
Finally, on the Mac, you can find an ecosystem of alternative paid PIM apps, like Spark, Fantastical, Things, and others. There is no equivalent ecosystem on Linux, probably because they would be difficult to monetize.
Power tools are more limited and more difficult to use
The previous section could be summarized as "Linux PIM software is fine in general, but gets in the way of power users."
That is counterintuitive, right? Linux is a much nerdier OS than the Mac and everything is customizable.
But when you jump from theory to practice, at some point you just want a tool to help you set up your config, without the need to edit your trackpad driver source file.
Any advanced Mac user knows about Karabiner, BetterTouchTool, Choosy, Alfred, Automator, and more.
With Linux, you can achieve almost the same feature set, but it is harder and more limited.
For example. To customize your keyboard, you will need a combination of xdotool, xbindkeys, xcape, xmodmap and setxkbmap to capture some event and then run a shell script. There is a Gnome Shell plugin that allows you to tweak your keyboard, but it's nowhere near Karabiner.
If you want to achieve some specific action you need to read four or five manpages, search online, and figure out how you are going to put the pieces together. That made me appreciate Karabiner and BTT much more.
Furthermore, I couldn't find a real alternative to BTT to customize trackpad multi-touch gestures. I tried a few approaches with libinput-gestures but none worked.
In the end, I was able to replicate most of my macOS power tools setup via input hooks and shell scripts, but it took much longer than it should have. I found it surprising that, given the number of nerds using Linux every day, there are no specific tools equivalent to those mentioned above.
"I Can't believe we're still protesting this crap"
Please allow me to make a bit of fun of issues that existed back in 1999 when I started using Linux and still exist today.
Screen tearing with the intel driver. Come on. This was solved on xorg and now with Wayland it's back. I fiddled multiple times with the settings but couldn't fix it. Even with OpenBSD it was easier to fix. The default settings should be better. I don't care if the video driver will use an extra buffer or whatever.
Resolving new hosts is slow, with a delay of about 2-3 seconds. I tried to disable IPv6 and other tricks from Stackoverflow threads, but none solved the issue completely. Again, an issue with the default settings. macOS does some DNS magic or something and the network feels much faster.
Resuming after suspend seems to work at first. As soon as you start to trust it and not save your work before closing the lid, it betrays you and you lose your work. Later, you upgrade the kernel and it works all the time for weeks until you upgrade the kernel again and it goes back to working 80% of the time. What a mess.
We've come a long way with Linux on the desktop but I think it's funny that some things never change.
Linux also hides some gems
I want to end this review on a positive note.
During those six months, I also took notes on apps and workflows that are still better on Linux.
Tracker/search is better and faster than Spotlight. It's a shame that not all apps take advantage of it, especially Thunderbird.
Firefox is amazing. On the Mac, Safari is a better choice, but I was very happy using Firefox full-time on Linux. I am going to miss some great plugins, like Multi-account containers, Instagram-guest, Reddit Enhancement Suite, and of course NoScript and uBlock Origin
Nautilus is better than the Finder. It's not even close.
The Gnome Shell Extension Gallery has many hidden gems, like Nothing to say which mutes the microphone system-wide with a shortcut, the Emoji selector, Caffeine to keep your computer awake, a Clipboard manager, and Unite to tweak basic UI settings. I am now using macOS equivalents to those, and I discovered their existence thanks to the Linux counterparts.
Insync for Linux is better than the official Google Drive File Stream for the Mac. In fact, I am now using the Mac version of Insync.
Gimp and Inkscape are excellent apps, and it's a pity that the macOS ports are mediocre. I'd rather use them than Pixelmator/Affinity Designer. Hopefully, someday either GTK or these apps will get decent macOS versions.
apt-get was a revolution when it was released in 1998 and it is still the best way to manage software today. brew is a mediocre replacement.
I paid for Crossover which allowed me to use MS Office and other Windows apps I needed. Kudos to the Wine developers for almost 30 years of continuous effort.
Xournal is an obscure app that allows you to annotate PDF documents as well as draw with a Wacom tablet. I used it constantly as a whiteboard for online presentations. The macOS port is very buggy, unfortunately, so I use OneNote which is not that good.
Hopefully, the success of paid tools like Insync or Crossover can encourage the developer ecosystem to continue developing quality apps, even if they are non-free, or supported by donations.
What's next?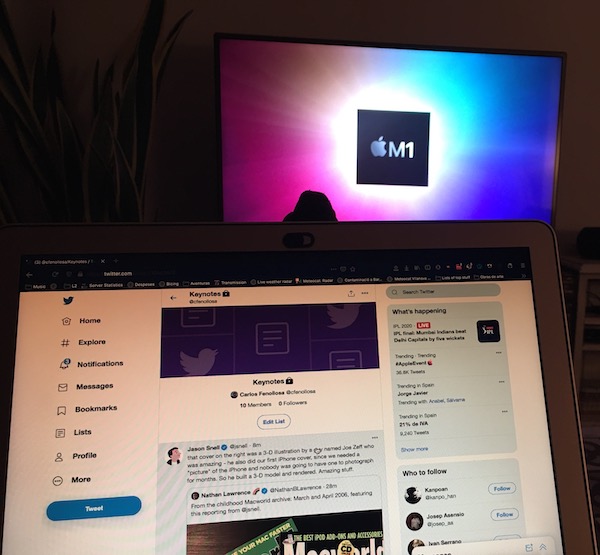 On November 10th Apple showed us the future of the Mac and released again laptops worth buying. So I bought the 2020 M1 Macbook Air. You will read a review of it soon.
The hardware is much better than the Dell's and, I guess, every other PC laptop. The software ecosystem is a big improvement over my Linux setup, and Big Sur course corrects the absolute mess that Catalina was. With every passing year, the iCloud offering keeps getting better, especially if you have other Apple devices.
I am somewhat sad that I couldn't join the Linux Resistance. After all, I've been an annoying proselytizer heavy free software advocate in the past, and I still am, though I nowadays admit there are many nuances.
The experience of using Linux as a daily driver has been very positive for me, but I do need my productivity. I can work much faster with macOS and iCloud than I was with Linux and my self-hosted cloud setup.
If there ever was a period where the Mac experience was worse than Linux, it is now over. The Mac ecosystem wins again. Don't switch to Linux expecting it to have fewer papercuts than the Mac. It's quite the opposite.
There is definitely grass on the other side of the fence, but it is not greener.
Continue reading...

This article
February 11, 2021 — Carlos Fenollosa
This article is part of a series:

This article
Fed up with the Mac, I spent six months with a Linux laptop. The grass is not greener on the other side
Returning the Macbook Pro
In the previous installment of this series I explained how I had been disenchanted with recent Macs.
The fact is that shortly after writing that review I returned the 2020 Macbook Pro.
I tried to love it, honest to God, but it was mediocre.
Let me share with you the list of issues I found while using it for two weeks:
USB2 keyboard and mouse randomly disconnecting. I tried 3 different USB/Thunderbolt adapters, including Apple's, to no avail.
Abnormal rattling sound when fans start spinning, as if they were not properly seated.
Not detecting the internal keyboard sometimes after resuming sleep.
Only 5 hours of battery life when streaming video with the screen off, connected to a TV.
Battery drained from 70% to 15% after sleeping overnight.
The touchbar. I spent time trying to make it useful with BetterTouchTool. Then I discovered that the keypresses don't register correctly most of the times, and I had to tap twice or three times, which defeats the purpose of having a dedicated shortcut.
Trackpad registers too many spurious taps and the cursor jumps around the screen while typing.
Airpods Pro have ~400ms of audio lag when watching videos. Solved with a reboot but it appears again after a few minutes.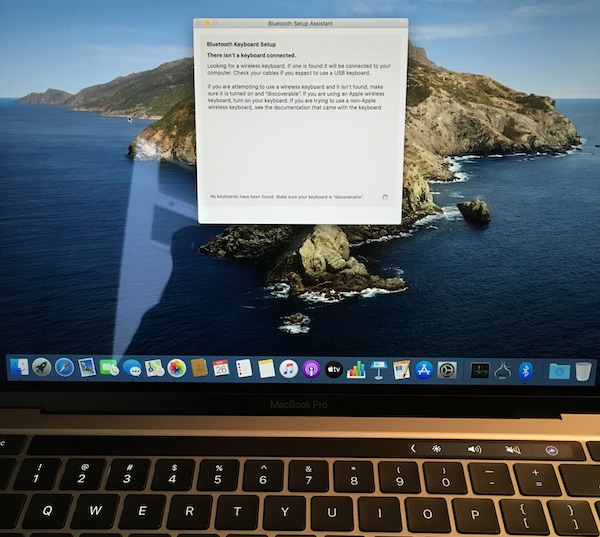 The fact that it had issues with the internal keyboard and the USB subsystem made me think that the unit may have a faulty logic board. I discovered later, through a Reddit thread, that the USB2 issue was not specific to my unit, but it didn't matter much.
I was feeling really ripped off with a machine I had spent 2.000€ on and which, speed aside, was worse than my 2013 Air in every way I cared.
In the end, my gut told my brain, "Stop rationalizing it, this laptop makes you unhappy", and I came to terms with it.
Now what?
I had been dreading this moment since 2016, when I realized that Apple didn't care about my demographic anymore.
Migrating platforms is a big hassle, so after I made the decision to return the Macbook Pro, I thought carefully what the next steps would be.
In order to transition from the Mac to Linux I had to prepare a plan for for new hardware, new software, and a new cloud ecosystem.
At that point there were strong rumors about ARM Macs. I thought I'd use Linux for an indeterminate amount of time, until Apple hopefully released a good Mac again. Which may have been "never", though I was optimistic.
I have used Linux extensively in my life, since 1999, but mostly as a developer. Nowadays my requirements are more "mainstream" and I need apps like Microsoft Office and Adobe Reader to do my job. This is an important point to make. This computer is my main work tool, and it needs to accommodate my own needs as well as my job's. I spent some time making sure that I could run all the software I needed. As a last resort, there is always the option of using a VM.
As a final step, I had to move all the iCloud stuff out of there, because it is not interoperable with standard clients. I decided I would self-host it and see how difficult it is to leave the walled garden.
Therefore, I needed to fulfil the following requirements:
Good laptop hardware with Linux support
Ability to run work-related software
Self-hosted (or almost) cloud services
1. Choosing a new laptop: The 2018 Dell XPS 13"
Before buying—and potentially returning—a new machine I drove to the office and grabbed two old laptops to see if they would fit: a Thinkpad 420 and a 2018 Dell XPS 13".
I decided to test drive the five of them: the 2020 MBP, my 2013 MBA, the Thinkpad, the Dell, and my tinkering laptop, a Thinkpad x230 with OpenBSD.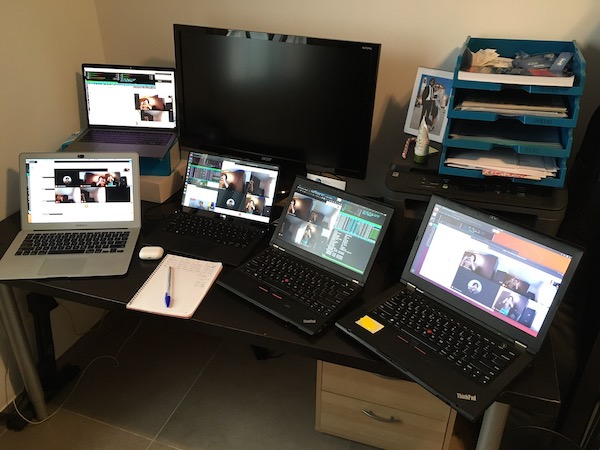 I then spent a couple days trying to make some sense of the situation. You can see them running a group video chat and some benchmarks.
Fortunately, a clear winner emerged: the 2018 Dell XPS with Ubuntu-Dell installed.
How good is the 2018 XPS? Excellent. 9.5/10 would recommend. I got in love with that machine. Very good hardware, with just a few minor issues.
Pros:
Good screen quality
Small bezels. It makes a difference and I still miss them today.
Light, nice in my lap. The Macbook Pros have air vents that "cut" into your legs when you're wearing shorts.
All I/O worked fine. I used the official Dell Thunderbolt Dock.
Excellent keyboard. I liked the pgup/pgdn keys on the arrow cluster and welcomed back the function keys.
Good battery life (6h of streaming video) even though the laptop had been used daily for almost 3 years.
Cons:
The speakers are of laughable quality. Not just bad, but why-would-Dell-do-that bad. Extremely quiet and terrible quality.
The webcam is on a bad location. Not really a big deal, but I'm glad they fixed it in recent revisions.
The trackpad is kinda like the 2013 Air's, but a bit worse.
Coil whine. I tried to be positive and used it as an "activity indicator" like in the old days of spinning hard drives, but I'd rather not have it.
That really is it. The Dell XPS is probably the best go-to PC laptop. Excellent set of compromises, good price, good support. If you want to use Linux on a laptop, you can't go wrong with the XPS.
2. Doing my job with Linux
I knew beforehand that hardware support was not going to be an issue. Linux drivers in general are pretty good nowadays, and that XPS specifically was designed to work well with Linux, that is why we bought it for the office.
On first boot everything works. Ubuntu is pretty good. Gnome 3 tries to be like a Mac, which I liked, and the basic software is fine for most of the people.
I then installed my work software. Most of it is either standard (email, calendar...) or multi-platform via Electron or webapps. For Windows-specific software I purchased a license of Crossover and also installed a Windows 10 VM on Virtualbox. It was not super convenient and sometimes things crashed with Crossover, but I could manage.
Overall, the desktop environment and base apps are not as polished as macOS, which I will discuss later, but it worked.
I am happy to realize that I can continue recommending Linux to "regular people" who want a computer that just works, doesn't get viruses, and is very low maintenance.
3. My self-hosted cloud setup
This is a topic that is on everybody's mind right now. We went from the original, decentralized internet, to a network centralized in a few vendors like Facebook, Google, Cloudflare and Amazon, and I think that is a bad idea.
The walled garden is comfortable, but what happens when you want to make the switch? How easy it really is to migrate your online infrastructure to another vendor?
Well, I was going to discover that soon. I like the iCloud ecosystem, and in general am fine with Apple's privacy policies, but I just couldn't continue using it. Apart from email, all other services (pictures, calendars, files, notes, etc.) cannot be used in Linux, and the browser client is extremely bad.
I am a geek, and have been a sysadmin since college, so I took it as a personal challenge to create my own personal cloud infrastructure.
First I tried Nextcloud. It mostly works and I recommend it in general, but the server components are too heavy and the file syncing is slow and unreliable.
I decided to self-host every individual piece of the puzzle:
My mail has been managed by postfix/dovecot for a few years now. I don't recommend anybody self-hosting email due to deliverability issues, but I'm that stubborn.
I set up radicale for contacts, calendars and tasks. It had issues connecting to some clients due to, I believe, SSL negotiation. If I had to set it up again I'd try another alternative.
All my files got synced over my laptops and the server thanks to Syncthing. I can't stress enough how great of a software is Syncthing. Really, if you're looking for an alternative to Dropbox, try it out. It will amaze you.
Syncthing does not expose files publicly, so I span up the Apache Webdav server to share files.
Joplin is a good alternative to take rich text notes and sync them over the internet. The clients are not very polished, but it works.
For passwords I've been using Lastpass for some time.
I kept using iCloud for pictures, because it's the best solution if you have an iPhone. It is fine because I don't need to work with pictures on my daily workflow.
It took some time of researching and deploying all the pieces, and I'm quite happy with the result. It feels really great to manage your online infrastructure, even though it requires technical knowledge and regular maintenance to keep everything up to date.
So how did it all work out?
Well, I have been repeating this term all over the article: it works. I could do my job, and it was a very gratifying learning experience. Overall, I do encourage geeks to spin up their own cloud infra and work with Linux or BSD boxes. I do have some self-hosted cloud services and I also keep a laptop with OpenBSD which I use regularly.
It is possible to get out of the walled garden. Of course, it's not within reach of the general public yet, even though Nextcloud is very close, and some third party vendors are starting to offer an integrated cloud experience outside the world of the Big Cloud.
But I'm writing this in the past tense because I went back to the Mac. Unfortunately, after six months of using this setup full-time I started noticing very rough edges, which I will explain on the next article.
Stay tuned!
Continue reading...

This article
Fed up with the Mac, I spent six months with a Linux laptop. The grass is not greener on the other side
June 01, 2020 — Carlos Fenollosa
This article is part of a series:

This article
Fed up with the Mac, I spent six months with a Linux laptop. The grass is not greener on the other side
The 2013 Macbook Air is the best computer I have ever owned. My wish has always been that Apple did nothing more than update the CPU and the screen, touching nothing else. I was afraid the day of upgrading my laptop would come.
But it came.
My Air was working flawlessly, if only unbearably slow when under load. Let me dig a bit deeper into this problem, because this is not just the result of using old hardware.
When video conferencing or under high stress like running multiple VMs the system would miss key presses or mouse clicks. I'm not saying that the system was laggy, which it was, and it is expected. Rather, that I would type the word "macbook" and the system would register "mok", for example. Or I would start a dragging event, the MouseUp never registered but the MouseMove continued working, so I ended up flailing an icon around the screen or moving a window to some unexpected place.
This is mostly macOS's fault. I own a contemporary x230 with similar specs running Linux and it doesn't suffer from this issue. Look, I was a computer user in the 90s and I perfectly understand that an old computer will be slow to the point of freezing, but losing random input events is a serious bug on a modern multitasking system.
Point #1: My old computer became unusable due to macOS, not hardware, issues.
******
As I mentioned, I had been holding on my purchase due to the terrible product lineup that Apple held from 2016 to 2019. Then Apple atoned, and things changed with the 2019 16". Since I prefer smaller footprints, I decided that I would buy the 13" they updated next.
So here I am, with my 2020 Macbook Pro, i5, 16 GB RAM, 1 TB SSD. But I can't bring myself to love it like I loved my 2013 Air.
Let me explain why. Maybe I can bring in a fresh perspective.
Most reviewers evaluate the 2020 lineup with the 2016-2019 versions in mind. But I'm just some random person, not a reviewer. I have not had the chance to even touch any Mac since 2015. I am not conditioned towards a positive judgement just because the previous generation was so much worse.
Of course the new ones are better. But the true test is to compare them to the best laptops ever made: 2013-2015 Airs and Pros.
Point #2: this computer is not a net win from a 2013 Air.
Let me explain the reasons why.
The webcam
You will see the webcam reviewed as an afterthought in most pieces. I will cover it first. I feel like Apple is mocking us by including the worst possible webcam on the most expensive laptop.
Traditionally, this has been a non-issue for most people. However, due to covid-19 and working from home, this topic has become more prominent.
In my case, even before the pandemic I used to do 2-3 video conferences every day. Nowadays I spend the day in front of my webcam.
What infuriates me is that the camera quality in the 2013 Air is noticeably better. Why couldn't they use at least the same part, if not a modern one?
See for yourself. It really feels like a ripoff. Apple laughing at us.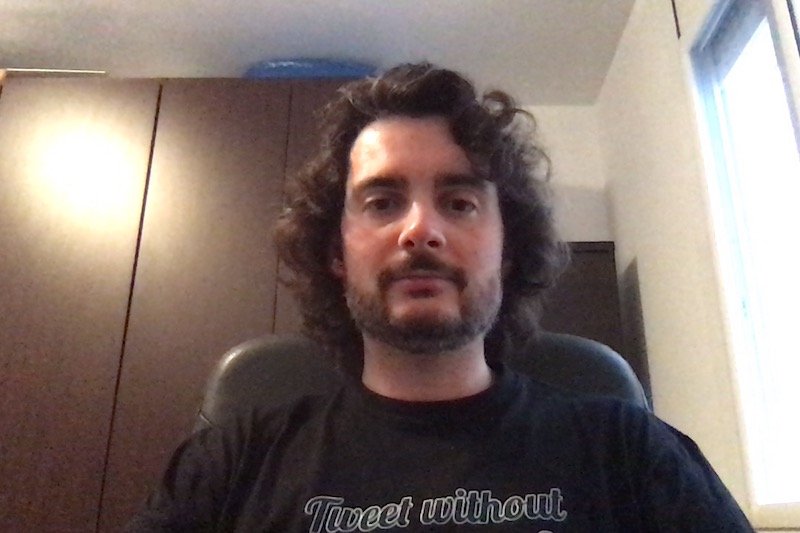 The 2020 macbook pro webcam looks horrible, and believe me, it is not only due to Yours Truly's face.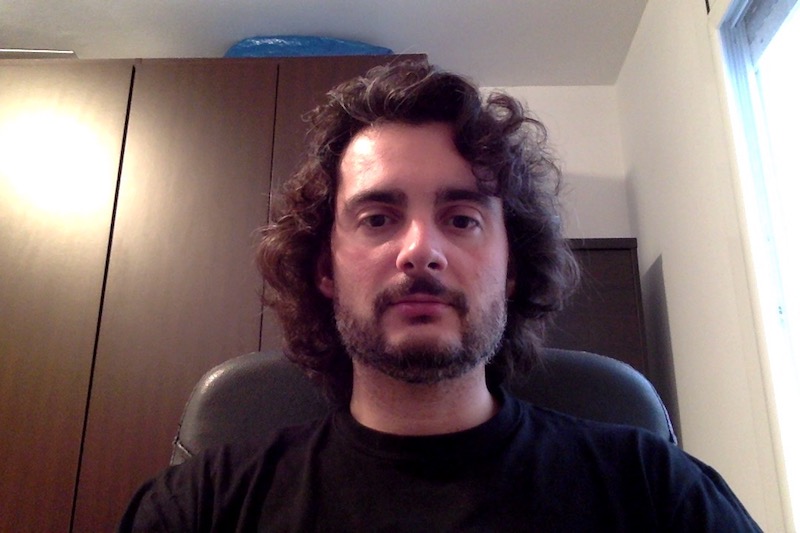 A reasonable quality picture from the 2013 Air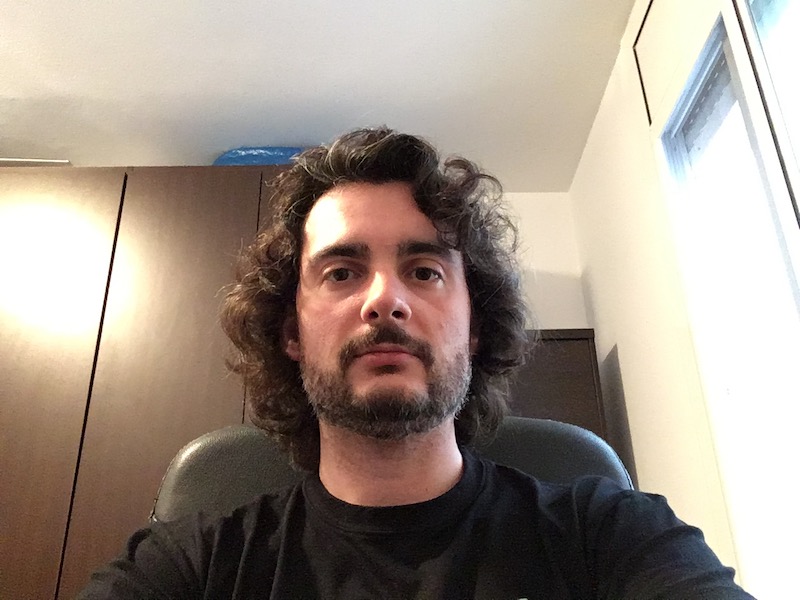 For reference, this is the front facing camera of the 2016 iPhone SE, same angle and lighting conditions.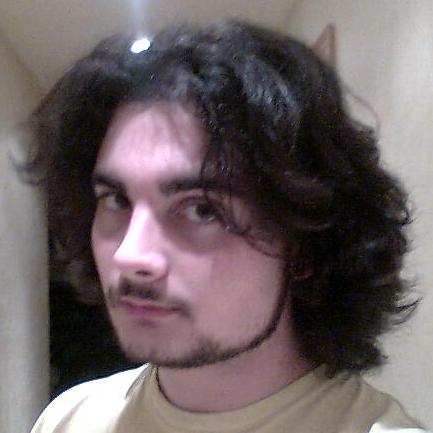 As a second reference, a picture taken with the 640x480 VGA camera of my 2006 Nokia 5200. Which of the above looks the most like this?
I would have paid extra money to have a better webcam on my macbook.
The trackpad
The mechanism and tracking is excellent, but the trackpad itself is too large and the palm rejection algoritm is not good enough.
Point #3: The large trackpad single-handedly ruins using the experience of working on this laptop for me.
I am constantly moving the cursor accidentally. This situation is very annoying, especially for a touch typist as my fingers are always on hjkl and my thumb on the spacebar. This makes my thumb knuckle constantly brush the trackpad and activate it.
I really, really need to fix this, because I have found myself unconsciously raising my palms and placing them at a different angle. This may lead to RSI, which I have suffered from in the past.
This is a problem that Apple created on their own. Having an imperfect palm rejection algorithm is not an issue unless you irrationally enlarge the trackpad so much that it extends to the area where the palm of touch typists typically rests.

Is it worth it to antagonize touch typists in order to be able to move the cursor from this tiny corner?
I would accept this tradeoff if the trackpad was Pencil-compatible and we could use it as some sort of handwriting tablet. That would actually be great!
Another very annoying side effect of it being so large is that, when your laptop is in your lap, sometimes your clothes accidentally brush the trackpad. The software then registers spurious movements or prevents some gestures from happening because it thinks there is a finger there.
In summary, it's too big for no reason, which turns it into an annoyance for no benefit. This trackpad offers a bad user experience, not only that, it also ruins the keyboard—read below.
I would have paid extra money to have a smaller trackpad on my macbook.
The keyboard
The 2015 keyboard was very good, and this one is better. The keyswitch mechanism is fantastic, the layout is perfect, and this is probably the best keyboard on a laptop.
Personally, I did not mind the Escape key shenanigans because I remapped it to dual Ctrl/Escape years ago, which I recommend you do too.
Touch ID is nice, even though I'm proficient at typing my password, so it was not such a big deal for me. Face ID would have been much more convenient, I envy Windows Hello users.
Unfortunately, the large trackpad torpedoes the typing experience. Writing on this Macbook Pro is worse than on my 2013 Air.
I will keep searching for a tool which disables trackpad input within X miliseconds of a key press or disables some areas of the trackpad. I have not had any luck with neither Karabiner nor BetterTouchTool.
The Touchbar
After having read mostly negative feedback about it, I was determined to drill myself to like it, you know, just to be a bit contrarian.
"I will use tools to customize it so much that it will be awesome as a per-application custom function layer!"
Unfortunately, the critics are right. It's an anti-feature. I gave it an honest try, I swear. It is just bad, though it could have been better with a bit more effort.
I understand why it's there. Regular users probably find it useful and cute. It's ironically, a feature present in pro laptops meant for non-pro users: slow typists and people who don't know the regular keyboard shortcuts.
That being said, I would not mind it, probably would even like it, if it weren't for three major drawbacks:
First and foremost, it is distracting to the point that the first thing I did was to search how to completely turn it off.
This is because, by default, it offers typing suggestions. Yes, while you are typing and trying to concentrate, there is something in your field of vision constantly flashing words that you didn't mean to type and derailing your train of thought.
Easy to fix, but it makes me wonder what were Apple product managers thinking.
Secondly, it is placed in such a way that resting your fingers on top of the keyboard trigger accidental key presses.
I can and will retrain my hand placement habits. After all, this touchbar-keyboard-trackpad combo is forcing many people to learn to place their hands in unnatural positions to accommodate these poorly designed peripherals.
However, Apple could have mitigated this by implementing a pressure sensor to make it more difficult to generate involuntary key presses. It would be enough to distinguish a brush from a tap.
Finally, and this is also ironic because it's in contradiction with the previous point, due to lack of feedback, sometimes you're not sure whether you successfully pressed a touchbar key. And, in my experience, there is an unjustifiable large number of times where you have to press them twice, or press very deliberately to activate that key you want.
There are some redeeming features, though.
As stated above, I am determined to make it bearable, and even slightly useful for me, by heavily modifying it. I suggest you go to System Preferences > Keyboard and use the "Expanded Control Strip".
Then, customize the touchbar buttons, remove keys you don't use, and add others. Consider paying for BetterTouchTool for even more customization options.
Then, on the same window, go to the Shortcuts tab, and select Function keys on the left. This allows you to use function keys by default in some apps, which is useful for Terminal and other pro apps like Pycharm.
(Get the third irony? To make the touchbar, a pro feature, useful for pro apps, the best setup is to make it behave like normal function keys)
Finally, if you're registering accidental key presses, just leave an empty space in the touchbar to let your fingers rest safely until you re-train your hands to rest somewhere else. This is ridiculous, but hey, better than getting your brightness suddenly dimming to zero accidentaly.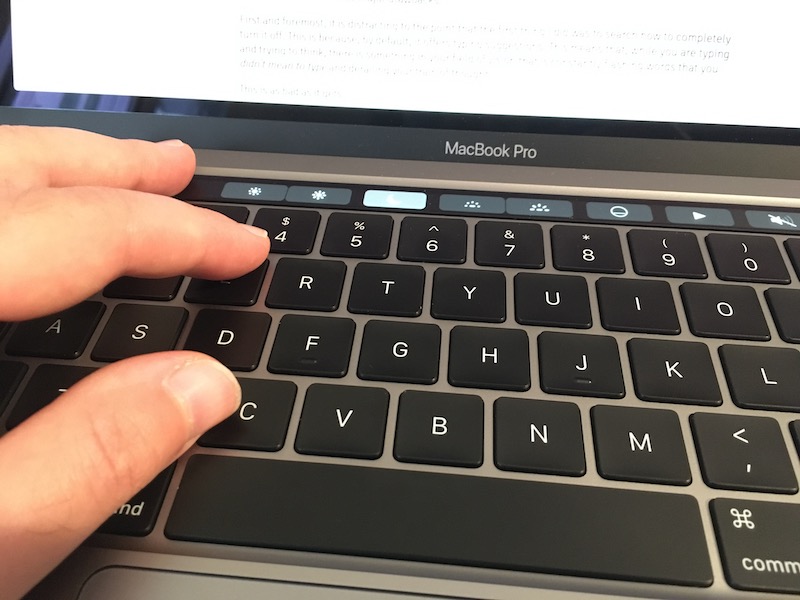 Leave an empty space in the touchbar on the area where you are used to rest your fingers.
I would have paid extra money to not have a touchbar on my macbook.
The ports
Another much-debated feature where I resigned myself to just accept this new era of USB-C.
I did some research online and bought the "best" USB-C hub, along with new dongles. I don't mind dongles, because I was already using some with my Air. It's not like I swim in money, but there is no need to blow this out of proportion.
Well, I won't point any fingers to any review site, but that "best" hub is going back to Amazon as I write these lines. Some of my peripherals disconnect randomly, plus I get an "electric arc" noise when I disconnect the hub cable. I don't know how that is even possible.
The USB-C situation is terrible. Newly bought peripherals still come with USB-A cables. Regarding hubs, it took me a few years to find a reliable USB3 hub for my 2013 Air. I will keep trying, wish me luck.
About Magsafe, even though I really liked it, I don't miss it as much as I expected. I do miss the charging light, though. No reason not to have it integrated in the official cable, like the XPS does.
Some people say that charging via USB-C is actually better due to standardization of all devices, but I don't know what periperals these people use. My iPhone and Airpods charge via Lightning, my Apple Watch charges via a puck, and other minor peripherals like cameras and external batteries all charge via micro-USB. Now I have to carry the same amount of cables as before, I just swapped the Magsafe cable and charger for the USB-C cable and charger.
Another poorly thought decision is the headphone jack. It is on the wrong side. Most of the population is right-handed, so there usually is a notebook, mouse, or other stuff to the right of the laptop. The headphones cable then gets in the way. The port should have been on the left, and close to the user, not far away from them, to gain a few extra centimeters to the cable.
By the way, not including the extension cord is unacceptable. This cord is not only a convenience, but it increases safety, because it's the only way to have earth grounding for the laptop. Without it, rubbing your fingers on the surface of the computer generates this weird vibration due to current. I have always recommended Mac users that they use their chargers with the extension cable even if they don't need the extra length.
I would have paid extra money to purchase an Apple-guaranteed proper USB-C hub. Alternatively, I would have paid extra money for this machine to have a couple of USB-A ports so I can keep using my trusty old hub.
I would not have paid extra money to have the extension cord, because it should have come included with this 2,200€ laptop. I am at a loss for words. Enough of paying extra money for things that Apple broke on purpose.
Battery life
8-9 hours with all apps closed except Safari. Browsing lightly, with an occasional video, and brightness at the literal minimum. This brightness level is only realistic if it's night time. In a normally lit environment you need to set the brightness level at around 50%.
It's not that great. My Air, when it was new, easily got 12 hours of light browsing. Of course, it was not running Catalina, but come on.
When I push the laptop a bit more, with a few Docker containers, Pycharm running, Google Chrome with some Docs opened, and brightness near the maximum, I get around 4 hours. In comparison, that figure is reasonable.
Overall, it's not bad, but I expected more.
While we wait for a Low Power Mode on the mac, do yourself a favor and install Turbo Boost Switcher Pro.
The screen
Coming from having never used a Retina screen on a computer, this Macbook Pro impressed me.
Since I don't edit photos or videos professionally, I can only appreciate it for its very crisp text. The rest of features are lost on me, but this does not devalue my opinion of the screen.
The 500-nit brightness is not noticeable on a real test with my 2013 Air. For some reason, both screens seem equally bright when used in direct daylight.
This new Retina technology comes with a few drawbacks, though.
First, it's impossible to get a terminal screen without anti-aliasing. My favorite font, IBM VGA8, is unreadable when anti aliased, which is a real shame, because I've been using it since the 90s, and I prefer non-anti-aliased fonts on terminals.
Additionally, many pictures on websites appear blurry because they are not "retina-optimized". The same happens with some old applications which display crappy icons or improperly proportioned layouts. This is not Apple's fault, but it affects the user experience.
Finally, the bezels are not tiny like those in the XPS 13, but they are acceptable. I don't mind them.
To summarize, I really like this screen, but like everything else in this machine, it is not a net gain. You win some, you lose some.
Performance
This is the reason why I had to switch from my old laptop, and the 2020 MBP delivers.
It allows me to perform tasks that were very painful in my old computer. Everything is approximately three times faster than it was before, which really is a wow experience, like upgrading your computer in the 90s.
Not much to add. This is a modern computer and, as such, it is fast.
Build quality
Legendary, as usual.
To nitpick on a minor issue, I'd like Apple to make the palm rest area edges a bit less sharp. After typing for some time I get pressure marks on my wrists. They are not painful, but definitely discomforting.
Likewise, when typing on my lap, especially when wearing sports shorts in summer like I'm doing right now, the chassis leaves marks on my legs near the hinge area. Could have been reduced by blunting the edges too.
One Thousand Papercuts
In terms of software, Apple also needs to get its stuff together.
Catalina is meh. Not terrible, but with just too many annoyances.
Mail keeps opening by itself while I'm doing video conferences and sharing my screen. I have to remind myself to close Mail before any video conference, because if I don't, other people will read my inbox. It's ridiculous that this bug has not been fixed yet. Do you remember when Apple mocked Microsoft because random alert windows would steal your focus while you were typing? This is 100x worse.
My profile picture appears squished on the login screen, and there is no way to fix it. The proportions are correctly displayed on the iCloud settings window.
Sometimes, after resuming from sleep, the laptop doesn't detect its own keyboard. I can assure you, the keyboard was there indeed, and note how the dock is still the default one. This happened to me minutes after setting up the computer for the first time, before I had any chance to install software or change any settings.
I get constant alerts to re-enter my password for some internet account, but my password is correct. Apple's services need to differentiate a timeout from a rejected password, or maybe retry a couple times before prompting.
Critical software I used doesn't run anymore and I have to look for alternatives. This includes Safari 13 breaking extensions that were important for me. Again, I was prepared for this, but it's worth mentioning.
Praise worthy
Here are a few things that Apple did really well and don't fit into any other category.
Photos.app has "solved" the photos problem. It is that great. As a person who has 50k photos in their library, going back to pictures of their great grandparents: Thank you, Apple!
Continuity features have been adding up, and the experience is now outstanding. The same goes for iCloud. If you have an iPhone and a Mac, things are magical.
Fan and thermal configuration is very well crafted on this laptop. It runs totally silent, and when the fans kick off, the system cools down very quickly and goes back to silent again.
The speakers are crisp and they have very nice bass. They don't sound like a tin can like most laptops, including the 2013 Air, do.
Conclusion
This computer is bittersweet.
I'm happy that I can finally perform tasks which were severely limited on my previous laptop. But this has nothing to do with the design of the product, it is just due to the fact that the internals are more modern.
Maybe loving your work tools is a privilege that only computer nerds have. Do taxi drivers love their cars? Do baristas love their coffee machines? Do gardeners love their leaf blowers? Do surgeons love their scalpels?
Yes, I have always loved my computer. Why wouldn't I? We developers spend at least eight hours a day touching and looking at our silicon partners. We earn our daily bread thanks to them. This is why we chose our computers carefully with these considerations in mind, why we are so scrupulous when evaluating them.
This is why it's so disappointing that this essential tool comes with so many tradeoffs.
Even though this review was exhaustive, don't get me wrong, most annoyances are minor except for the one deal-breaker: the typing experience. I have written this review with the laptop keyboard and it's been a continuous annoyance. Look, another irony. Apple suffered so much to fix their keyboard, yet it's still ruined by a comically large trackpad. The forest for the trees.
Point #4: For the first time since using Macs, I do not love this machine.
Going back to what "Pro" means
Apple engineers, do you know who is the target audience for these machines?
This laptop has been designed for casual users, not pro users. Regular users enjoy large trackpads and Touch Bars because they spend their day scrolling through Twitter and typing short sentences.
Do you know who doesn't, because it gets in the way of them typing their essays, source code, or inputting their Photoshop keyboard shortcuts? Pro users.
In 2016 I wrote:
However, in the last three to five years, everybody seemed to buy a Mac, even friends of mine who swore they would never do it. They finally caved in, not because of my advice, but because their non-nerd friends recommend MBPs. And that makes sense. In a 2011 market saturated by ultraportables, Windows 8, and laptops which break every couple years, Macs were a great investment. You can even resell them after five years for 50% of their price, essentially renting them for half price.

So what happened? Right now, not only Pros are using the Macbook Pro. They're not a professional tool anymore, they're a consumer product. Apple collects usage analytics for their machines and, I suppose, makes informed decisions, like removing less used ports or not increasing storage on iPhones for a long time.

What if Apple is being fed overwhelmingly non-Pro user data for their Pro machines and, as a consequence, their decisions don't serve Pro users anymore, but rather the general public?
The final irony: Apple uses "Pro" in their product marketing as a synonymous for "the more expensive tier", and they are believing their own lies. Their success with consumer products is fogging their understanding of what a real Pro needs.
We don't need a touchbar that we have to disable for Pro apps.
We don't need a large trackpad that gets in the way of typing.
We need more diverse ports to connect peripherals that don't work well with adapters.
We need a better webcam to increase productivity and enhance communication with our team.
We need that you include the effin extension cable so that there is no current on the chassis.
We need you to not splash our inbox contents in front of guests while sharing our screens.
We need a method to extend the battery as long as possible while we are on the road—hoping that comes back some day.
Point #5: Apple needs to continue course-correcting their design priorities for power users
Being optimistic for the future
I have made peace with the fact that, unlike my previous computer, this one will not last me for 7 years. This was a very important factor in my purchase decision. I know this mac is just bridging a gap between the best lineup in Apple's history (2015) and what will come in the future. It was bought out of necessity, not out of desire.
14" laptop? ARM CPUs? We will be awaiting new hardware eagerly, hoping that Apple keeps rolling back some anti-features like they did with the butterfly keyboard. Maybe the Touchbar and massive trackpad will be next. And surely the laggy and unresponsive OS will have been fixed by then.
What about the alternatives?
Before we conclude I want to anticipate a question that will be in some people's mind. Why didn't you buy another laptop?
Well, prior to my purchase I spent two months trying to use a Linux setup full-time. It was close, but not 100% successful. Critical software for my job had no real alternatives, or those were too inconvenient.
Regarding Windows, I had eyes on the XPS 13 and the X1 Carbon which are extremely similar to this macbook in most regards. I spent some time checking if Windows 10 had improved since the last time I used it and it turns out it hasn't. I just hate Windows so much it is irrational. Surely some people prefer it and feel the same way about the Mac. To each their own.
Point #6: Despite its flaws, macOS is the OS that best balances convenience with productive work. When combined with an iPhone it makes for an unbeatable user experience.
I decided that purchasing this new Mac was the least undesirable option, and I still stand by that decision. I will actively try to fix the broken trackpad, which will increase my customer satisfaction from a 6 —tolerate— to an 8 or 9 —like, even enjoy—.
But that will still be far away from the perfect, loving 10/10 experience I had with the 2013 Air.
Continue reading...

This article
Fed up with the Mac, I spent six months with a Linux laptop. The grass is not greener on the other side
September 29, 2019 — Carlos Fenollosa
A couple days ago, Twitter user axi0mX introduced checkm8, a permanent unpatchable bootrom exploit for iPhones 4S to X
The jailbreak community celebrated this great achievement, the netsec community was astounded at the scope of this exploit, and regular users worried what this meant for their phone's security.
Even though I've jailbroken my iPhone in the past, I have no interest to do it now. If you want to read the implications for the jailbreak community, join the party on /r/jailbreak
I have been reading articles on the topic to understand what are the implications for regular people's security and privacy. All my family has A9 iPhones which are exploitable, and I wanted to know whether our data was at risk and, if such, what could we do to mitigate attacks.
I think the best way to present the findings is with a FAQ so people can understand what's going on.
1-Line TL;DR
If you have an iPhone 4s, 5, or 5c, somebody who has physical access to your phone can get all the data inside it. If your phone is more modern and the attacker doesn't know your password, they can still install malware, but rebooting your phone makes it safe again.
What is Jailbreak?
Your iPhone is controlled by Apple. You own it, but you are limited in what you can do with it.
Some people like this approach, others prefer to have total control of their phone.
A jailbreak is a way of breaking these limitations so you can 100% control what's running on your phone.
The goal of jailbreaking is not necessarily malicious. In fact, the term "jailbreak" has the connotation that the user is doing it willingly.
However, the existence of a jailbreak method means that an attacker could use this same technique to compromise your phone. Therefore, you must understand what is going on and how to protect yourself from these attackers.
Jailbreaking has existed since the first iPhone. Why is this one different?
Typically, jailbreaking methods exploit a software bug. This means that Apple can (and does) fix that bug in the next software release, negating the method and any related security issues.
This method, however, exploits a hardware bug on the bootrom. The bootrom is a physical chip in your iPhone that has some commands literally hard-wired in the chip. Apple cannot fix the bug without replacing the chip, which is unfeasible.
Therefore, it is not possible to fix this bug, and it will live with your phone until you replace it
These kind of bugs are very rare. This exact one has been already patched on recent phones (XS and above) and it has been a long time since the last one was found.
☑ This bug is extremely rare and that is why it's important to know the consequences.
How can an attacker exploit this bug? Can I be affected by it without my knowledge?
This exploit requires an attacker to connect your phone to a computer via Lightning cable.
It cannot be triggered by visiting a website, receiving an email, installing an app, or any non-suspicious action.
☑ If your phone never leaves your sight, you are safe.
I left my phone somewhere out of sight. May it be compromised?
Yes. However, if you reboot your phone, it goes back to safety. Any exploit does not persist upon reboots, at least, at this point in time. If that changes, this text will be updated to reflect that.
Any virus or attack vector will be uninstalled or disabled by Apple's usual protections after a reboot.
If you feel that you are targeted by a resourceful attacker, read below "Is there a feasible way to persist the malware upon reboot?"
☑ If you are not sure about the safety of your phone, reboot it.
Can my personal data be accessed if an attacker gets physical access to my phone?
For iPhones 4S, 5 and 5c, your data may be accessed regardless of your password. For iPhones 5s and above (6, 6s, SE, 7, 8, X), your data is safe as long as you have a strong password.
If you have an iPhone 4s, 5, or 5c, anybody with physical access to your phone will have access to its contents if your password is weak (4 to 8 digit PIN code, or less than 8 characters alphanumeric code)
If your iPhone 4s-5-5c has a strong password, and the attacker does not know it and cannot guess it, they may need a long time (months to years) to extract the data. Therefore this attack cannot be run in the scenario where the phone leaves your sight for a few minutes, but you get it back quickly afterwards. However, if your phone 4s-5-5c is stolen, assume that your data is compromised.
It is unknown if this exploit allows the attacker to guess your password quicker than a "months to years" period on older iPhones.
iPhones 5s and above have a separate chip called the Secure Enclave which manages access to your personal data. Your data is encrypted on the device and can not be accessed. The Secure Enclave does not know your password, but uses some math to decrypt it with your password.
If you have an iPhone 5s and above, an attacker can only access your data if they know, or can easily guess, your password.
☑ Use a strong password (>8 alphanumeric characters) that an attacker can not guess
Can it be used to disable iCloud lock, and therefore re-use stolen phones?
It is unknown at this point.
Assuming the scenario where iCloud lock is not broken, and the Secure Enclave is not affected, what is the worst that can happen to my phone?
You may suffer a phishing attack: they install a fake login screen on your iPhone, or replace the OS with an exact copy that works as expected, but it also sends all your keystrokes and data to the attacker.
The fake environment may be indistinguishable from the real one. If you are not aware of this attack, you will fall for it.
Fortunately, this malware will be purged or disabled upon reboot.
All phones (4s to X) are vulnerable to this attack.
☑ Always reboot your phone if you think it may be compromised.
Is there a feasible way to persist the malware upon reboot?
Unlikely. The jailbreak is tethered, which means that the phone must be connected to a computer every time it boots.
However, somebody may develop a tiny device that connects to the Lightning port of the iPhone and conveniently injects code/malware every time it is rebooted.
This device may be used on purpose by jailbreakers, for convenience (i.e. a Lightning-USB key, or a small computer) or inadvertently installed by a sophisticated attacker (i.e. a phone case that by-passes the lightning port without the victim knowing)
In most cases, this external device will be easy to spot even to the untrained eye.
An extremely sophisticated attacker may develop a custom chip that is connected internally to the Lightning port of the iPhone and runs the malware automatically and invisibly. To do so, they would need physical access to your phone for around 10 minutes, the time it takes to open the phone, solder the new chip, and close it again.
☑ Watch out for unexpected devices connected to your Lightning port
Who are these "attackers" you talk about?
Three-letter agencies (NSA, FBI, KGB, Mossad...) and also private companies who research their own exploits (Cellebrite, Greyshift) to sell them to the former.
It is entirely possible that the above already knew about this exploit, however.
Other attackers may be regular thieves, crackers, pranksters, or anybody interested in developing a virus for the iPhone.
If you are a regular user who is not the target of a Government or Big Criminal, remember:
Don't let people connect your iPhone to an untrusted device
Otherwise, reboot it when you get it back
Watch out for small devices on your Lightning port
~~~~~~
References:
September 10, 2019 — Carlos Fenollosa
This year's phone keynote has delivered, according to Apple, all-new products from the top down
Quite boring hardware unfortunately, as was expected.
Better cameras, though for use cases I'm not sure are very useful
Better battery life thanks to the A13 chip
Marginally better screen on the Pro phone
Always-on screen on the Watch, which is nice
Simple update on the entry-level iPad
The landing page for each phone is 60% camera features and 40% other features. Not saying that is wrong, on the contrary, the marketing team is doing their job as in my experience most people use their phones as an Instagram device.
Where I think Apple nailed it is with the Watch. They are really, really good at the health and fitness message, and the product itself is fantastic.
However, I will criticise them for two things.
First, the fact that they are not even advertising the full price for the phone, but rather an installment plan first, then a discounted price with the trade of an old phone, and only when you say "no" to these options you get the actual price. Let me reiterate that. When you visit Apple.com the price you see for the phones is not the actual retail price.
They are aware that their hardware is not attractive at those price points, but at the same time they can't lower them because of positioning. Well; to be precise, the iPhone 11 is actually sliiightly cheaper than last year's but, in my opinion, not attractive enough to upgrade. And let's not even mention EU prices. On top of the 21% sales tax —nothing to do there— we are eating up a 1:1 USD:EUR ratio which is bullshit.
Second, Apple is advertising a "Pro" phone that can shoot incredible 4K movies, but stuffing it with only 64 GB of storage. The consumer experience is terrible when you are out of disk space.
My phone memory is full and every time I take a picture it is immediately uploaded to iCloud and deleted from the phone. If I want to show it to somebody later the same day, I have to wait for it to load from the network. My UX is that I have no pictures or videos stored locally, not even for pictures I took 15 minutes ago. That is definitely not a feature you want on a super advanced camera-phone.
The phone market is too mature
Regarding innovation, what can Apple really do? I honestly do not have an answer. The majority of the population is not renewing their phones on a yearly cycle, not even a two year cycle. I have an SE only because my 5S broke. I loved my 5S and there is no feature in current phones that would make me upgrade.
I commute every day and see what "normal people" (excuse me) do on their phones. It is 40% scrolling through Instagram, 30% Whatsapp, 20% watching shows, 5% taking pictures, 5% playing games.
If you want to read the best take on the keynote, read Ben Thompson's The iPhone and Apple's Services Strategy.
The phone market and phone technology have crossed the chasm long ago and they're on diminishing returns. I stick by my reaction of last year's keynote:
Apple should seriously consider 2-year iPhone cycles.
People who want smaller phones, regardless of price, may move to Android, myself included, so an updated iPhone SE is strategic for Apple.
Hardware improvements are going to be mostly incremental from now on. Therefore...
Apple should focus on software, which they are doing very well, and keep coming up with really crazy innovative hardware, which they appeared to be doing but rumors say they scraped at the last minute like the U1 chip.
Apple is a company full of smart people that can reinvent boring products like beige PCs, Nokia phones, and even headphones and watches. I am hopeful for the next wave of hardware, whatever it is. AR glasses? Car stuff? TVs? We will see.
Personally, I am indifferent at this keynote. Since my main need is a laptop, I'm still waiting for the new wave of macbooks to renew my 2013 MBA. I simply refuse to buy any laptop from Apple's current lineup. The rumors are very promising, so let's check what they can come up with!
Tags: apple
August 30, 2019 — Carlos Fenollosa
A very deep dive into iOS Exploit chains found in the wild (via) is a terrifying read of an iPhone implant that installs itself just by visiting a website and exploits five different 0-day vulnerabilities.
The implant phones back home with root access to all activity on your phone: chats, mails, location, pictures, and more.
I think it is fair to criticize Apple because they allowed an unsigned process running as root, using the network and a lot of battery activity, without any kind of monitoring to detect it. That process should not have been running without being discovered.
Given that an iPhone is not a computer, and not even an advanced user could detect and/or clean the implant, Apple's responsibility should be to start being more serious about the possibility of iPhone viruses.
An awesome feat of engineering, though. Kudos to both the criminals and the researchers who detected it.
Vice has a non-geek writeup which, at first, seemed like a bit sensationalist, but given the severity of the breach is probably somewhat warranted.
August 16, 2018 — Carlos Fenollosa
This is the incredibly weird chain of bugs and hardware issues that bricked my iPhone after the battery of my Apple Watch started to swell.
A couple of months ago the battery of my 1st gen Apple Watch started to swell and the screen popped out. I googled about this issue and read that it's covered by a warranty program, so I brought the watch to the Apple Store in Barcelona. The watch got serviced in a few days, excellent customer support as usual by Apple.
I got home and tried to link this new watch to my iPhone 5s. For some reason the watch refused to link unless I upgraded iOS 10 to iOS 11 on my phone.
My old watch had been working perfectly with iOS 10, but apparently this refurbished one had a new software version that required iOS 11 to work.
I had kept my phone at iOS 10 because my 5s is a bit slow nowadays, I don't need the new features, and in general prefer stability on my main devices. I think, it can't be that bad, and furthermore I had missed my watch so much these last days, so I decide to upgrade.
Terrible decision.
I tap on "Upgrade". The phone downloads the upgrade, starts installing it, progress bar, reboot, progress bar, reboot... one too many times. It's stuck on a reboot loop around 80% of progress. Ok, two options, I think. Hardware issue or software issue. How could it be hardware? The phone was working well up to ten minutes ago. So I decide to install clean, wiping out all my data
It's now late afternoon and next day I have to work, and need the phone. You know that feeling, right? This won't end well. I do a clean install, set up Whatsapp and Google Maps, hoping to restore from an icloud backup next day while at work.
The clean install lets me reach the iOS 11 setup screen. Set up wifi, tap next, and reboot. Damn. Set up wifi again, reboot. This doesn't look like a software issue. I try something... I wait five minutes on the wifi setup screen without touching anything. Surprisingly, the phone does not reboot.
I set up wifi after these five minutes and the phone reboots instantly. Any electrical engineer (or probably most of you here that's read about batteries and iOS 11) knows what's happening by now. The battery is failing to supply enough voltage, and this is made apparent at peak power demand, that is, when antennas are working and CPU is at max. I resign myself to having no phone for the next day.
Then, I realize I have a spare iPhone 5s battery laying around, One that I bought to replace my mother's battery (she has also an iPhone 5s) but never ended up fixing. I've changed batteries maybe a dozen times before, and work with electronics regularly. I know best practices. I ground myself, pick up the screwdrivers and suction cup, open up the iPhone carefully, remove the battery glue strips, and install the new battery.
The phone boots.
With the new battery I finally manage to get past the wifi screen but unfortunately the phone keeps rebooting randomly when accessing networks. Damn. My phone clearly has an electrical problem and for whatever reason iOS 11 triggered it. Later, when discussing this issue when a Genius, they confirmed that this is a motherboard problem which required an expensive repair.
Back to the 5S. Since I couldn't use a phone that dies on me randomly, and it's late at night, I picked up my old 4S, popped in my SIM, quickly downloaded Whatsapp and Maps, set up my work email and a few more apps, hoping all icloud data syncs over night. Fortunately, it did.
The next day I started using the 4S as my daily driver. I managed to stick with it for a month, but in the end, it was too slow for everyday usage. It was nice as an experiment, but a pain in the neck to work with.
That's the end more or less. I have a new Apple Watch that killed my 5S, which ironically I couldn't use because my replacement 4S wasn't compatible with that Watch.
I still don't know why iOS 11 draws more power than iOS 10, or if it was a firmware change that really killed my phone. But my bet is on battery management. Doesn't matter now. It was a disaster.
As I was saying, I ended up buying an SE, which is two years old, at full retail price. Well, I got a 40€ discount by trading in the broken 5S.
The cheapest iPhone is not a great deal nowadays, but it still is the perfect phone for my usage/size/budget.
It is not my intention to blame Apple. I fully understand what happened, and it was a chain of unfortunate events. However, I have the feeling that if I could have downgraded the 5S to iOS 10, it may have come back from the dead.
Tags: apple
November 16, 2016 — Carlos Fenollosa
My current machine is a 2013 i7 Macbook Air. It doesn't have the Pro label, however, It has two USB 3.0 ports, an SD slot and a Thunderbolt port. 12 hours of battery life. One of the best non-retina screens around. Judging by this week's snarky comments, it's more Pro than the 2016 Macbook Pro.
Me, I love this laptop. In fact, I love it so much that I bought it to replace an older MBA. I really hoped that Apple would keep selling the same model with a Retina screen and bumped specs.
But is it a Pro computer or not? Well, let me twist the language. I make my living with computers, so by definition it is. Let's put it another way around: I could have spent more money for a machine which has Pro in its name, but that wouldn't have improved my work output.
What is a Pro user?
So there's this big discussion on whether the Pro label means anything for Apple.
After reading dozens of reviews and blog posts, unsurprisingly, one discovers that different people have different needs. The bottom line is that a Pro user is someone who needs to get their work done and cannot tolerate much bullshit with their tools.
In my opinion, the new Macbook Pros are definitely a Pro machine, even with some valid criticisms. Apple product releases are usually followed by zesty discussions, but this time it's a bit different. It's not only angry Twitter users who are complaining; professional reviewers, engineers, and Pro users have also voiced their concerns.
I think we need to stop thinking that Apple is either stupid or malevolent. They are neither. As a public company, the metric by which their executives are evaluated is stock performance. Infuriating users for no reason only leads to decreasing sales, less benefits, and unhappy investors.
I have some theories on why Apple seems to care less about the Mac, and why many feel the need to complain.
Has the Pro market changed?
Let's be honest: for the last five years Apple probably had the best and most popular computer lineup and pricing in their history. All markets (entry, pro, portability, desktops) had fantastic machines which were totally safe to buy and recommend, at extremely affordable prices.
I've seen this myself. In Spain, as one of the poorest EU countries, Apple is not hugely popular. Macs and iPhones are super expensive, and many find it difficult to justify an Apple purchase on their <1000€ salary.
However, in the last three to five years, everybody seemed to buy a Mac, even friends of mine who swore they would never do it. They finally caved in, not because of my advice, but because their non-nerd friends recommend MBPs. And that makes sense. In a 2011 market saturated by ultraportables, Windows 8, and laptops which break every couple years, Macs were a great investment. You can even resell them after five years for 50% of their price, essentially renting them for half price.
So what happened? Right now, not only Pros are using the Macbook Pro. They're not a professional tool anymore, they're a consumer product. Apple collects usage analytics for their machines and, I suppose, makes informed decisions, like removing less used ports or not increasing storage on iPhones for a long time.
What if Apple is being fed overwhelmingly non-Pro user data for their Pro machines and, as a consequence, their decisions don't serve Pro users anymore, but rather the general public?
First, let's make a quick diversion to address the elephant in the room because, after all, I empathize with the critics.
Apple is Apple
Some assertions you can read on the Internet seem out of touch with a company which made the glaring mistake of building a machine without a floppy, released a lame mp3 player without wireless and less space than a Nomad, tried to revolutionize the world with a phone without a keyboard, and produced an oversized iPhone which is killing the laptop in the consumer market.
Apple always innovates. You can agree whether the direction is correct, but they do. They also copy, and they also steal, like every other company.
What makes them stand out is that they are bolder, dare I say, more courageous than others, to the point of having the courage to use the word courage to justify an unpopular technical decision.
They take more risks on their products. Yes, I think that the current audio jack transition could've been handled better, but they're the first "big brand" to always make such changes on their core products.
This brings us to my main gripe with the current controversy. I applaud their strategy of bringing iPhone ideas, both hardware and software, to the Mac. That is a fantastic policy. You can design a whole device around a touch screen and a secure enclave, then miniaturize it and stick it on a Macbook as a Touch Bar.
Having said that, us pros are generally conservative: we don't update our OS until versions X.1 or X.2, we need all our tools to be compatible, and we don't usually buy first-gen products, unless we self-justify our new toy as a "way to test our app experience on users who have this product".
The Great Criticism Of The 2016 Macbook Pro is mainly fueled by customers who wanted something harder, better, faster, stronger (and cheaper) and instead they got a novel consumer machine with few visible Pro improvements over the previous one and some prominent drawbacks.
Critical Pros are disappointed because they think Apple no longer cares about them. They feel they have no future using products from this company they've long invested in. Right now, there is no clear competitor to the Mac, but if it were, I'm sure many people would vote with their wallets to the other guy.
These critics aren't your typical Ballmers bashing the iPhone out of spite. They are concerned, loyal customers who have spent tens of thousands of dollars in Apple's products.
What's worse, Apple doesn't seem to understand the backlash, as shown by recent executive statements. Feeling misunderstood just infuriates people more, and there are few things as powerful as people frustrated and disappointed with the figures and institutions they respect.
Experiment, but not on my lawn
If I could ask Apple for just one thing, it would be to restrict their courage to the consumer market.
'Member the jokes about the 2008 Macbook Air? Only one port, no DVD drive?
The truth is, nobody cared because that machine was clearly not for them; it was an experiment, which if I may say so, turned out to be one of the most successful ever. Eight years later, many laptops aspire to be a Macbook Air, and the current entry Apple machine, the Macbook "One", is only an iteration on that design.
Nowadays, Apple calls the Retina MBA we had been waiting for a "Macbook Pro". That machine has a 15W CPU, only two ports—one of which is needed for charging—, good enough internals, and a great battery for light browsing which suffers on high CPU usage.
But when Apple rebrands this Air as a Pro, real pros get furious, because that machine clearly isn't for them. And this time, to add more fuel to the fire, the consumer segment gets furious too, since it's too expensive, to be exact, $400 too expensive.
By making the conscious decision of positioning this as a Pro machine both in branding and price point, Apple is sending the message that they really do consider this a Pro machine.
One unexpected outcome of this crisis
Regardless, there is one real, tangible risk for Apple.
When looking at the raw numbers, what Apple sees is this: 70% of their revenue comes from iOS devices. Thus, they prioritize around 70% of company resources to that segment. This makes sense.
Unless.
Unless there is an external factor which drives iPhone sales: the availability of iPhone software, which is not controlled by Apple. This software is developed by external Pros. On Macs.
The explosion of the iOS App Store has not been a coincidence. It's the combination of many factors, one of which is a high number of developers and geeks using a Mac daily, thanks to its awesomeness and recent low prices. How many of us got into iPhone development just because Xcode was right there in our OS?
Similarly to how difficult it is to find COBOL developers because barely anyone learns it anymore, if most developers, whichever their day job is, start switching from a Mac to a PC, the interest for iOS development will dwindle quickly.
In summary, the success of the iPhone is directly linked to developer satisfaction with the Mac.
This line of reasoning is not unprecedented. In the 90s, almost all developers were using the Microsoft platform until Linux and OSX appeared. Nowadays, Microsoft is suffering heavily for their past technical decisions. Their mobile platform crashed not because the phones were bad, but because they had no software available.
Right now, Apple is safe, and Pro users will keep using Macs not only thanks to Jobs' successful walled garden strategy, but also because they are the best tools for the job.
While Pro users may not be trend-setters, they win in the long term. Linux won in the server. Apple won the smartphone race because it had already won the developer race. They made awesome laptops and those of us who were using Linux just went ahead and bought a Mac.
Apple thinks future developers will code on iPads. Maybe that's right 10 years from now. The question is, can they save this 10-year gap between current developers and future ones?
The perfect Pro machine
This Macbook Pro is a great machine and, with USB-C ports, is future proof.
Dongles and keyboards are a scapegoat. Criticisms are valid, but I feel they are unjustly directed to this specific machine instead of Apple's strategy in general. Or, at least, the tiny part that us consumers see.
Photographers want an SD slot. Developers want more RAM for their VMs. Students want lower prices. Mobile professionals want an integrated LTE chip. Roadies want more battery life. Here's my wish, different than everybody else's: I want the current Macbook Air with a Retina screen and 20 hours of battery life (10 when the CPU is peaking)
Everybody seems to be either postulating why this is not a Pro machine or criticizing the critics. And they are all right.
Unfortunately, unless given infinite resources, the perfect machine will not exist. I think the critics know that, even if many are projecting their rage on this specific machine.
A letter to Santa
Pro customers, myself included, are afraid that Apple is going to stab them on the back in a few years, and Apple is not doing anything substantial to reduce these fears.
In computing, too, perception is as important as cold, hard facts.
Macs are a great UNIX machine for developers, have a fantastic screen for multimedia Pros, get amazing build quality value for budget constrained self-employed engineers, work awesomely with audio setups thanks to almost inaudible fans, triple-A software is available, and you can even install Windows.
We have to admit that us Pros are mostly happily locked in the Apple ecosystem. When we look for alternatives, in many cases, we only see crap. And that's why we are afraid. Is it our own fault? Of course, we are all responsible for our own decisions. Does this mean we have no right to complain?
Apple, if you're listening, please do:
Remember that you sell phones because there's people developing apps for them.
Ask your own engineers which kind of machine they'd like to develop on. Keep making gorgeous Starbucks ornaments if you wish, but clearly split the product lines and the marketing message so all consumers feel included.
Many iOS apps are developed outside the US and the current price point for your machines is too high for the rest of the world. I know we pay for taxes, but even when accounting for that, a bag of chips, an apartment, or a bike doesn't cost the same in Manhattan than in Barcelona.
Keep making great hardware and innovating, but please, experiment with your consumer line, not your Pro line.
Send an ACK to let us Pros recover our trust in you. Unfortunately, at this point, statements are not enough.
Thank you for reading.