November 21, 2021 — Carlos Fenollosa
The reMarkable is a premium e-ink notebook. Imagine a Kindle, but you can write on it.
It has become my daily notebook. I take all my meeting notes on it, dump my ideas and designs, and carry it with me everywhere. As a bonus, it also has replaced my Kindle and my relationship with ebooks and "read it later" in general.
I have been using a reMarkable for six months. It is a great product, but the 500€ price point is probably double than most people would be willing to pay for.
This article aims to answer one single question: should you buy one, and pay more than an iPad, which has more features?
The price tag and the 30-day return window
The reMarkable store gives you 30 days to return it if you're not satisfied. Were it not for this option, I would have never bought one.
During my first weeks of use I couldn't stop considering returning it. To organize my thoughts I created a note on the reMarkable where I dumped my raw impressions.
On top, with big letters: "Should I return it?". Below that, random thoughts. "I enjoy it. Magical things happen when you write on it". "557€". "Pen feeling is ok very good". "Don't think of the money". "Disappointed with the OCR". "Good for reading but not great"
When approaching the end of the return period I asked myself, "if this product cost 200€, would I return it?". Definitely not. "Do I enjoy my interactions with the reMarkable, even if it's not perfect?". Definitely yes.
So I opened my thoughts note, and at the bottom, with fancy calligraphy, I wrote: "I'll keep it!"
Six months later, and with the price tag long forgotten, I'm glad I did.
The reMarkable as a notebook
👍🏼 On the plus side:
The writing experience is excellent. This is indeed the most critical aspect of the product. The reMarkable is a fantastic notebook.
It does really seem like you are using pen and paper. There is almost no lag when writing, the text is crisp, and the texture of the screen is even better than those of a Wacom.
Perfect size. Big enough to write long lines and diagrams and have plenty of space, yet a bit smaller than an A4 which makes it fit everywhere.
The pen tips last long enough. I had the feeling that I would need to replace them too often, but that's not the case. My first tip has lasted for 6 months of daily use.
The filesystem and document management is simple and works well. Syncing cloud stuff is a difficult task and I was somewhat afraid that it would be unreliable. It works well and any time that the sync failed I've been able to retry and make it work.
In general, the reMarkable software does not do a lot, but what it does, it does well.
You can use it as a whiteboard with your computer. I had a Wacom but the reMarkable retired it. It can "project" your current page to the reMarkable app on your computer. You cannot use the pen as an input device directly, but this compromise works well when you are doing e.g. a video conference and want to draw something and share it with colleagues.
It is distraction free. If you buy an iPad you get more features, but you will be tempted with distractions when you are working. An iPad replaces a computer. The reMarkable replaces a notebook.
It really does make you more creative. The fact that you can easily erase and move elements on the page and work with layers allows you for a more creative thought process. You are not constrained by a permanent pen on paper or having to erase and rewrite with a pencil. I am regularly sketching new ideas and designs much quicker and easier than with a regular notebook, a blackboard or a computer.
You can bring it to interactions where using an iPad would be rude. Because it is so clearly a notebook and not a computer you can use it in places where it would be rude to pull out a phone, iPad or a laptop.
As an example, I recommended the reMarkable to a friend of mine who is a psychologist, and they use it when talking to patients. I bring it to very important meetings where having a "computer" on the table could suggest a lack of attention or respect to the other party.
Writing on the reMarkable. Note the quick response to the pen and the audio of the writing experience.
👎🏼 However, the reMarkable as a notebook has one big drawback and some minor aspects to improve.
The OCR is useless. This is the most disappointing aspect of the reMarkable. Yes, it has OCR and it is of acceptable quality, but it doesn't work the way it should.
On the reMarkable, OCR needs to be invoked manually and the output text is then sent by email as a plain txt file. If you were hoping for it to work like ocrmypdf you will be disappointed.
To be useful, OCR ought to happen automatically, and should keep the converted text linked to the page graffitti as a reference. If that is too complex, at least add the recognized text as metadata so that the handwritten notes can be searched.
One of my main time sinks is to tidy up my handwritten meeting minutes into a computer document. I was hoping that my reMarkable would solve that and I only had to edit the OCR errors, but that was not the case. I still have to manually type my notes to a document afterwards.
Not having searchable notes was almost a deal-breaker for me, and I still have hope that this behavior will be implemented in the future as an update.
The eraser tool could be much improved. You can either select an area to delete or drag the pen and delete areas below it, but you cannot delete strikes.
Syncing should be more proactive. To sync your changes, you need to (1) close the current document, (2) wait for the reMarkable to connect to wifi, (3) wait for the sync to finish.
This means that the opened document you are working on will not sync unless you close it. I understand this is done to save battery, but I feel like the reMarkable should still wake up the radio and sync the current document every 15 minutes or so.
The accessories are expensive. You must use a pen with the reMarkable. It should be included in the base package, and the only reason it isn't is to reduce the price tag on the homepage. That feels a bit dishonest. The comparison with the iPad doesn't hold, because the iPad is not a notebook. Therefore, the base price of the reMarkable is $450.
The pen with the eraser is unreasonably priced and nobody should buy it since the eraser is no good anyways.
Regarding the cover, it is more necessary than on other tablets, because you can't risk damaging or even slightly scratching the soft screen. The sleeve is $70 and the book-like cover is $120.
This sets the real price of a reMarkable between $520 and $670.
The reMarkable as an ebook reader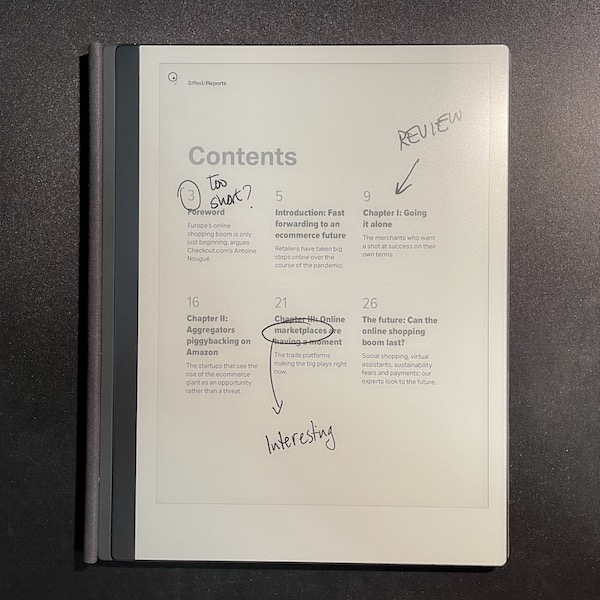 The reMarkable is a fine ebook reader which supports both pdf and epub files. It has no backlight, but I don't find that an issue as I don't read in bed.
Transferring and organizing files is super easy and much more convenient than on a Kindle or iPad. The desktop or mobile app allows you to send any document to the cloud, which will quickly sync to the reMarkable.
I have made a habit of exporting interesting articles or even long emails to pdf and sending them to the reMarkable. It is my "read it later". After many years of struggling with a good solution for this use case, I am very happy with the result.
The size is definitely on the larger side if you are used to smaller Kindles, but it has its benefits, especially when reading PDF files.
If you are familiar with dedicated ebook readers, you will miss a dictionary, bookmarks and annotations. You can highlight parts of the text, but there is no index of annotations anywhere. This makes it unsuitable for some types of editing and annotated reading.
Finally, in case somebody from reMarkable reads this, please fix your gesture to turn pages. I find myself needing to do the gesture up to four or five times until it works. This is a bit annoying when writing, but very prominent when reading ebooks. I would appreciate a setting or a mode where you can turn pages just by tapping on the margins, like other ebook readers.
Other thoughts
The battery life is excellent. You do not need to worry about it. It lasts between one and two weeks. Remember to use the sleep button for a better battery experience.
You have root access. The reMarkable is a proud Linux computer and you can SSH into it. You can install third party software. However, that software is not very polished, and sometimes even experimental, so I ended up using the official apps. Just be aware that if you're felling brave you can install other notebook apps and ebook readers, some games, new templates, and even make the pen a real input device for your computer.
They are moving towards a subscription model. After reading about it, in my opinion, you don't need the subscription. Google Drive and Dropbox integration are not necessary because the provided cloud service works well. The handwriting conversion is moot as explained above. Screen share is nice to have but it's one of those use-once-or-twice-every-year things. If you choose to pay for the subscription you get a discount on the device, so both options are good.
The option to connect an external keyboard would be killer. Of course, the main use case is to write with a pen. However, given that this is a distraction-free device, the option to behave essentially like the screen of a typewriter would be much appreciated by writers and minimalists.
The magnetic snap of the pen is very addictive
Should I buy it?
The reMarkable is a brilliant device that will replace your paper notebook and, unless you are an advanced user of ebook devices, your ebook reader. It is the ideal companion to a laptop.
Having a reMarkable at hand makes you more creative and you will want to carry it everywhere. The experience of writing on the reMarkable is far superior to pen and paper and even iPad-like tablets. It provides a distraction-free environment with a much better handwriting experience.
It is very easy to upload and download data from it and you will find yourself sending longer articles to the reMarkable to read later. However, it will not solve the problem of typing up handwritten notes on a clean computer document.
The price tag is very high, but there is a 30-day return guarantee, and you will really enjoy using this device. Go ahead. Just try it for yourself.
Disclosure: If you purchase a reMarkable through the links on this article you will take advantage of a $40 referral coupon, which means that you will basically get the pen for free.