September 01, 2018 — Carlos Fenollosa
I bought a nicely refurbrished Thinkpad X230 and it came with Windows 7.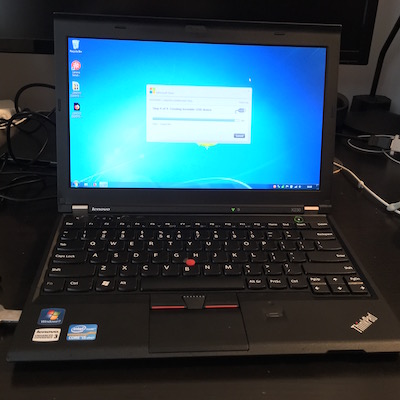 My idea is to install Ubuntu and OpenBSD, but I wanted to keep Windows in a small partition. I want to benchmark performance and battery life on the three systems.
Having not used any Windows version for 17 years, I faced this task with an open mind. Surely Windows is not going to suck after all these years, right?
This is what happened:
Unbox the laptop and boot it up
Windows First Launch Assistant asks me a few questions. Windows 7 boots to desktop. There is some Lenovo crapware installed but I'll deal with that later.
"You have updates, do you want to apply them?". Yes, I do. I don't want to use a Windows box on the Internet without the latest patches
It takes about 3 hours to download updates, installing them and rebooting. I think the laptop rebooted at least four times. Unaware of what would come next, I think "wow this is a terrible first-run experience for a novice user"
Suddenly, in the middle of an update, I get a BSOD. Some things never change I guess. I regret not having taken a picture.
After restarting, it seems some config or dll is broken and most apps don't run. The system is basically unusable
I download the official System Update Readiness Tool For Windows 7 which is a 500MB download that supposedly fixes this specific problem.
SURTFW7 hangs while it is installing the fix. I realize I am screwed.
I try to get back to a "restoration point" but none was created
At this point I am resigned to reinstall from scratch
I launch the Lenovo Factory Recover utility and produces a non-bootable USB disk
I boot from the recovery partition. The option to reset to factory disk/settings does not work
Twitter friends tell me that the smartest thing to do is to download a Windows 10 ISO and nuke the old installation
Thanks for a fantastic first time experience, Microsoft! 👌🏼
P.S. I have a Windows 10 key so I won't need to download a torrent but that's beside the point.
~~~~~~
Update: Indeed, I installed Windows 10. Then it took me about two hours to adjust all the settings and remove the telemetry "features". Since then, I've been sitting in front of the computer, waiting while it installs updates and reboots.
It has taken me two full days to get a new Windows laptop running, and I'm a fairly technical person. What on earth is Windows doing for hours and hours? It literally takes less time to fill in the whole disk with randomly generated bytes.
Ubuntu installed flawlessly and had all drivers working without any manual intervention. Updating to the latest patches took about three minutes and one reboot.
No wonder regular people hate Windows. It is, without a doubt, the worst, most frustrating computing experience I've had in the last ten years.
Tags: windows