September 27, 2019 — Carlos Fenollosa
Sorry for the clickbaity title. I was slightly misleading.
Simon Tatham's Portable Puzzle Collection is not only the best puzzle game for your phone, it is actually a collection of the best puzzle games.
Wait! It is actually the best puzzle game collection for any device, since all games are playable via web (js and *cough* Java), and there are native binaries for Windows and UNIX.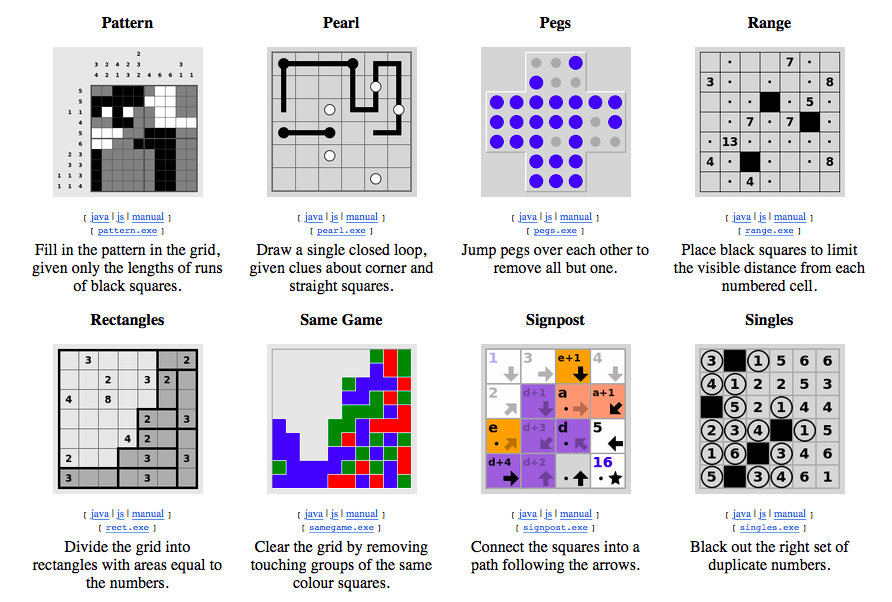 In Simon's own words:
[This is] a collection of small computer programs which implement one-player puzzle games. All of them run natively on Unix (GTK), on Windows, and on Mac OS X. They can also be played on the web, as Java or Javascript applets.

I wrote this collection because I thought there should be more small desktop toys available: little games you can pop up in a window and play for two or three minutes while you take a break from whatever else you were doing.
Simon's collection consists of very popular single player puzzle games, like Sudoku, Minesweeper, Same Game, Pegs, and Master Mind, and some lesser known, at least for me, but extremely fun to play: Pattern, Signpost, Tents, Unequal.
All games are extremely configurable and can usually be learned by reading the instructions and trying to play on a small board where the solution is usually trivial. Then, when you are ready, start expanding the board size and enabling some of the higher difficulty board generators!
Greg Hegwill ported the games to iOS and Chris Boyle ported them to Android. Other people have ported it to more platforms, like the Palm, Symbian or Windows phone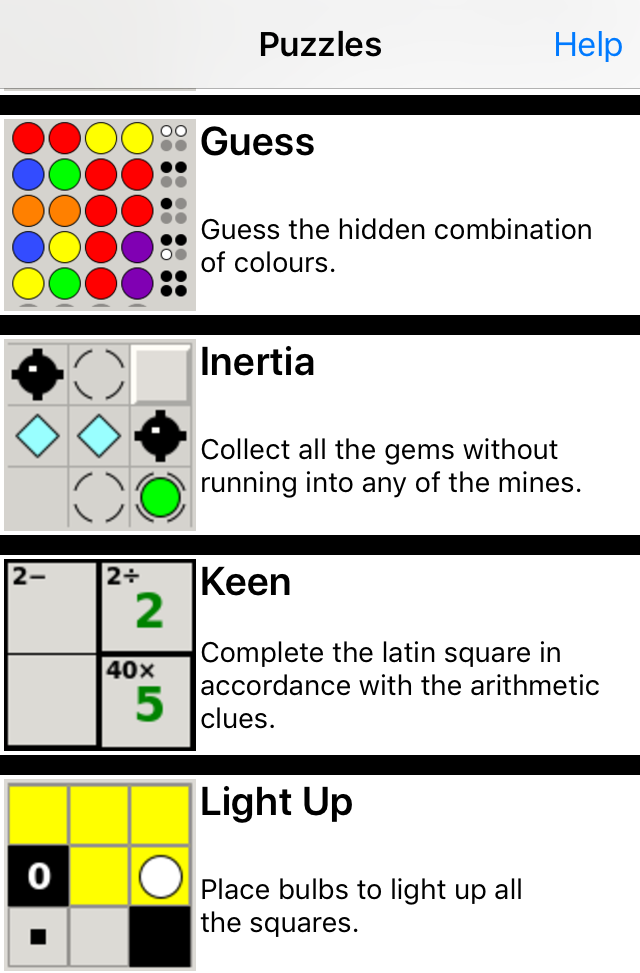 The games can of course run in old devices, are 3x free (money free, free software, and free of ads) and, as context, each game takes around 300kb of space (yes, kb). The full collection weighs 3.5Mb on iOS. For reference, Simon's mines.exe is 295kb, where Windows 3.1's winmine.exe was 28kb.
Simon's last commit is from April 2019 and he is still adding improvements to make the games more fun.
I don't really know how this could not be the Best Puzzle Game Ever. Download it right now on your phone (iOS, Android) and you'll thank me later.
August 30, 2019 — Carlos Fenollosa
A very deep dive into iOS Exploit chains found in the wild (via) is a terrifying read of an iPhone implant that installs itself just by visiting a website and exploits five different 0-day vulnerabilities.
The implant phones back home with root access to all activity on your phone: chats, mails, location, pictures, and more.
I think it is fair to criticize Apple because they allowed an unsigned process running as root, using the network and a lot of battery activity, without any kind of monitoring to detect it. That process should not have been running without being discovered.
Given that an iPhone is not a computer, and not even an advanced user could detect and/or clean the implant, Apple's responsibility should be to start being more serious about the possibility of iPhone viruses.
An awesome feat of engineering, though. Kudos to both the criminals and the researchers who detected it.
Vice has a non-geek writeup which, at first, seemed like a bit sensationalist, but given the severity of the breach is probably somewhat warranted.
March 13, 2018 — Carlos Fenollosa
Xataka is probably the biggest Spanish blogging company. I have always admired them, from my amateur perspective, for their ability to make a business out of writing blogs.
That is why, when they invited me to contribute with an article about the decline of Facebook, I couldn't refuse. Here it is.
Facebook se estanca, pero Zuckerberg tiene un plan: el porqué de las adquisiciones millonarias de WhatsApp e Instagram, or Facebook is stagnating, but Zuckerberg has a plan: the reason behind the billion dollar acquisitions of WhatsApp and Instagram.
Tags: facebook, internet, mobile